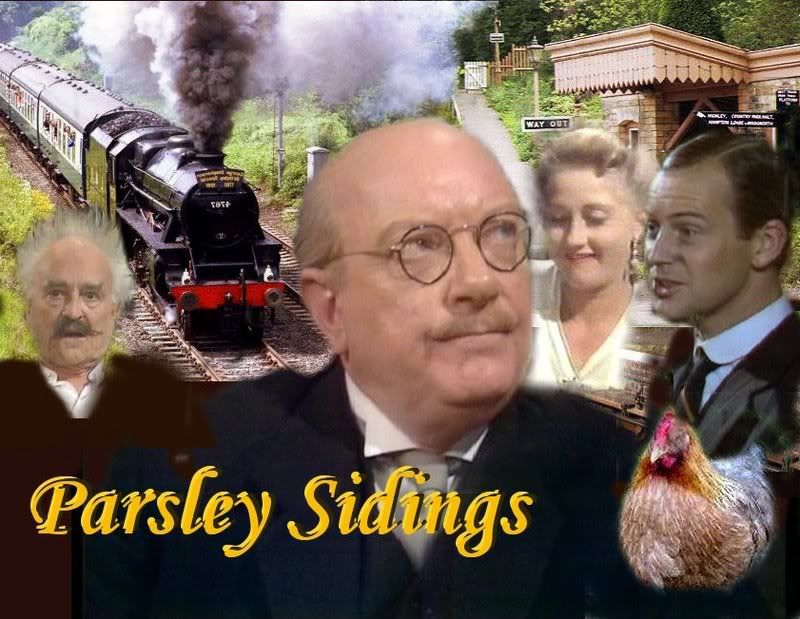 Starring

as Horace Hepplewhite
Station Master (Grade 3)

as Bertrand Hepplewhite
Booking Hall Ticket Office Clerk and Horace's son

as Percy Valentine Station Porter (Grade 3)
and Mr Bradshaw Signalman

as Gloria Simpkins
Secretary and Tannoy Announcer


Background Information

Parsley Sidings was a radio comedy series about a small railway station run by a wonderful team of characters. The series was created and written by Jim Eldridge and produced by the legendary radio producer/writer Edward Taylor. Generally the episodes centre around two main themes, threat of closure for varying reasons by the powers that be in British Rail, or the staff standing up for their rights or the rights of others against the authorities. However the individual plots are all quite unique and wonderfully crafted.

The show stars Arthur Lowe and Ian Lavender from Dad's Army . In a special exclusive interview for the DAAS NZ Branch website, Jim Eldridge says,

"In 1970 I proposed the idea of "Parsley Sidings" as a sitcom to BBC Radio. It was my first scriptwriting work. (I have since written about 200 radio scripts and 200 TV scripts). Edward Taylor was assigned as producer, and he thought it would be good to cast Arthur & Ian in those roles - following their success together in "Dad's Army" - and it worked superbly."

Arthur Lowe and Ian Lavender were already familiar to the British public thanks to their huge success in Dad's Army . Alongside them in Parsley Sidings were the popular film stars and Carry On series stalwarts Kenneth Connor and Liz Fraser. Jim continues:

"It was also Ted Taylor who cast Liz Frazer and Ken Connor - Ken Connor was, for me, the ace in the pack - his range of voices was incredible. As you say, he played many characters, and it was great fun for me to write him ever bigger challenges as the series went on... he played Clara the station hen on more than one occasion, and also a sheep - and he did them brilliantly!"




Dad's Army Connections

There are several connections between Dad's Army and Parsley Sidings . The obvious one is the Lowe and Lavender connection. They'd played Captain Mainwaring and Private Pike in Dad's Army , and now teamed up again in very similar roles. Lowe's characters were both pompous and patriotic middle-aged men who always played by the rulebook. They had a nostalgic belief in doing things the old-fashioned way rather than allowing progress to overtake them. Mainwaring and Horace Hepplewhite are both men who have found themselves in charge of a bunch of incompetents.

And Lavender's characters in Dad's Army and in Parsley Sidings are both naïve, slightly simple young men, who are really kids who haven't quite grown up. They are both rather inept with girls, and though they aim to do their best for Mr Mainwaring/ Father, their intentions usually land them in a mess.

But the connections don't end there. Alongside these two fine actors we hear in various episodes several other cast who played roles in Dad's Army .

Liz Fraser, who plays the lovely young Gloria Simpkins, in fact played Pike's mother in the Dad's Army film in 1971. Liz took on the role of Mrs Pike in the Columbia film when the US producers wanted her rather than the role's originator Janet Davies. I asked Jim Eldridge whether Liz was cast in Parsley Sidings because of her playing the part of Mrs Pike alongside Ian Lavender. His reply:

"Liz Frazer was cast in "Parsley Sidings" simultaneously as she did the film of Dad's Army - the first series of "PS" was in 1971, the same year the film came out."

So it was coincidence that Liz was in the show. And other Dad's Army personalities who cropped up included Bill Pertwee, who was famous for his role of the Chief Air Raid Warden, Mr Hodges. By now typecast in officious and bumptious roles, Bill was perfect to play characters from head office that intended to wreak havoc around Parsley Sidings . He played Mr Trimwick in 'Goodbye Parsley Sidings', the stationmaster who replaces Hepplewhite when he's promoted, and causes so much trouble the staff talk Horace into returning. He also played Mr Ryan in 'The New Level Crossing' who tries to automate the station, laying off the five staff members. Bill also appeared in 'The Flower Show', as Phineas Perkins, the stationmaster of Pottwhistle Halt – Horace Hepplewhite's arch-rival. Good old Bill!

A further connection to Dad's Army is Graham Stark, the actor who in 1973 stepped into the role of Private Joe Walker on radio when Jimmy Beck took ill and died. Graham played Walker in five episodes of Dad's Army on the radio, and he has a role in the Parsley Sidings episode 'The Film Makers'.

The late Pat Coombs also has a double role in the episode 'Who'll Be Mother?' Pat played roles in both the Dad's Army film and the Dad's Army radio episode 'A Soldier's Farewell'.

And the actress Elizabeth Morgan who appeared in the Parsley Sidings episodes 'The Market Special' and 'The Film Makers' also had a few roles in Dad's Army . On radio she appeared in the episodes 'The Armoured Might of Lance Corporal Jones' as Mrs Lennon, 'Something Nasty In The Vault' as Janet King, 'The Great White Hunter' as the housewife, and 'The Recruit' as the nurse and the small boy.


Where Is Parsley Sidings?

This fine radio comedy centres on a small, somewhat neglected and little used railway station in the British Midlands, called Parsley Sidings. The show's creator Jim Eldridge pinpoints the locality of this village station for us;

"Parsley Sidings was set in the Midlands , at the Birmingham end of the line between Euston and Birmingham New Street ."

Despite being on a main trunk route, the station is visited by just six trains a day, all of which seem to consistently run late. But the station itself is an efficient little unit.

Parsley Sidings station is situated in a sizable village, perhaps even a little town, which is inhabited by all manner of characters. And the station itself has its share of hard cases! The station has two platforms, one of which proudly displays an antique railway weighing machine. There is a buffet in the station, and a waiting room, as well as the ticket office, the stationmaster's office and public amenities. There is also the little used left-luggage office and a lost properties room.

Up the track a little bit, just around the bend in the line, is Bradshaw's signal box, where he has lived and worked for 70 years. He changes the points to allow trains to either go through the station, around the sidings, into the wash house or if need be into the engine sheds that are situated near the station. Along the embankments the staff grow vegetables, and there is an abundance of dandelions, which they get the boy scouts to tread in order to make their homemade wine.


The Staff

Heading the staff is the Station Master (Grade 3), Mr Horace Hepplewhite. He is a somewhat old fashioned and pompous man, who likes to do things by the book. He refers to his superiors in British Rail by the title of the London Station where they work, e.g., "Euston himself", "St Pancras himself", etc. This hilarious quirk was not common practice within British Rail, as Jim Eldridge explains;

"As far as Arthur's catchphrases "Euston himself", etc – no, railway workers didn't talk like that – I made it up for him, because it suited his personality".

Horace's father Oberdyer Hepplewhite was stationmaster before him, and Hepplewhites have been at the station for generations. Horace's grandfather Jeremiah Hepplewhite was stationmaster there in Victorian times and had always hoped Queen Victoria herself may someday visit his little station. Every year he planted flowers on the embankment that were laid out in such a way, when in bloom, would spell ' Victoria '. This caused some confusion to engine drivers however, who would occasionally think they'd arrived at Victoria Station and drop off 700 mainline passengers.

There was even a Hepplewhite in charge when the Parsley Sidings station first opened, Hosiah Hepplewhite was the original railway Hepplewhite. Hosiah had two sons,

Horace has a sister Maud who lives at Great Yarmouth. They do not get on too well, especially since her and her husband had their first child, Cyril. Maud disappointed her brother and father for marrying outside of the railway!
Horace Hepplewhite is fiercely proud of his station and is staunchly proud of being British. He is not quite so proud of some of his staff. They include his son, Bertrand Hepplewhite. Bert's official job is working in the ticket office, but really he has a variety of tasks around the station, in any place where his father thinks he can keep out of trouble. Whilst on duty he has to refer to his father as Mr Hepplewhite, who in turn simply calls him Hepplewhite, a somewhat cold working relationship.

Bert is not the brightest of people, and he hates working for the railways. He had previously been a milkman but was fired for dropping the bottles of milk through people's letterboxes. Bert lives with his father Horace and his mother, whom we never hear but do hear about on occasions. Bert also enjoys dabbling in amateur dramatics, where on occasions the local society will even allow him to have a speaking part. However he usually mucks this up. On the station he has a habit of building sandcastles in the fire-buckets. He has a much worse habit of getting his head stuck in the ticket window – often requiring the local fire brigade to remove it – and other parts of his body or uniform stuck in the ticket machine! Bert is so gormless; he has no idea that Gloria Simpkins, who works on the station as the Tannoy Announcer, has a huge crush on him.

Gloria is a sweet, innocent young girl who would like nothing more than to become Bert's girlfriend. She lives with her mother in the nearby village. She is very honest and hates to see Bert being conned by the porter Percy, who often persuades Bert to do his work.

Percy Valentine is a Cockney who enjoys nothing more than making a bit of money from nothing. He is always wheeling and dealing some sort of dodgy deal, and trying to conceal it so Mr Hepplewhite does not find out. He also lives with his mother, who at one time was caught selling sandwiches that Percy had swiped from the station buffet. He once stole the station's antique weighing machine to sell to a scrap merchant, who in turn sold it to Hepplewhite who thought it was another one the same and intended to put it on the opposite platform so he'd have a matching pair. And when Hepplewhite was in France , Percy hired out the engine sheds as chalets to holidaymakers. Valentine has contacts in the underworld that can source just about anything he needs, but is a terrible coward when faced with danger. When the staff discovered a parcel in the left-luggage office might be a bomb, he turned to jelly and panicked.

The fifth member of staff on the station is the elderly signalman, George Stevenson Bradshaw. Mr Bradshaw has worked there for donkey's years, and served alongside several generations of Hepplewhites, who had been stationmasters at Parsley Sidings back as far as Horace's grandfather. Bradshaw had served in the trenches in France in the First World War, where he met a French girl and had a bit of a fling. But these days he is less mobile due to his age, and spends his days up in his signal box. He is very vague and hard of hearing, often mistaking what people say as something else and then going off on an incoherent tangent completely oblivious to the actual matter at hand. He is however adept at his job of changing the signals and lines, and he is in contact with signallers all down the line, so he is the one who often sends messages for the staff. Bradshaw has one solution to every problem, "rub it with Wintergreen".


Inspiration

I asked Jim Eldridge whether the idea for Parsley Sidings had come from his own background – had he been a railway worker?

"No, I never worked on the railway, but I did go into Control Boxes, old signal boxes (with permission, I hasten to add) as part of my research."


BBC Cancellation of Parsley Sidings

I asked Jim why the series had gone no further than the two series. He replied:

"The reason the show went no further than 2 series of 21 shows was because, at that time, the BBC decided to go for major cost-cutting on Radio 2 and axed virtually all scripted comedy shows, replacing them with phone-in shows and records shows ... so sadly "Parsley Sidings" (along with others) bit the dust."

Such a shame that this classic show was axed at a time when it could have easily gone on and on.


Proposed TV Series

More interestingly however were other plans Jim had for the series. I asked him whether he'd ever wanted to transfer the series to TV. He replied:

"I did try to transfer it to TV, but sadly ITV came up with a similar show about a rural railway station but with a different cast. That show didn't last, but it made it hard to sell "Parsley Sidings". Also, the key duo were Arthur & Ian, and at that time they were still on UK TV with Dad's Army."

Can you imagine a television version of this series? It would have been wonderful. Of course Kenneth Connor wouldn't have been able to play all those multiple roles, but if you could imagine the talents of Lowe, Connor, Lavender and Fraser in a setting like that used in David Croft's comedy Oh Doctor Beeching , wow!

I did a little research into the ITV series that was similar to Parsley Sidings . It was The Train Now Standing . This show, made by London Weekend Television for ITV, co-incidentally also has a strong Dad's Army connection. It starred Pamela Cundell (better known to us as Mrs Fox!).

The Train Now Standing ran for two series; Series one running from the 20 th of May to 1 st of July 1972 (7 episodes) and Series Two running from the 8 th July to 2 nd of September 1973 (8 episodes).

Heading the cast was Bill Fraser (Pam Cundell's husband) as Hedley Green, who was the Station Master. The series was written by Jon Watkins, Jon Swallow, Geoff Rowley, Andy Baker and the legendary Ian La Frenais. The producer and director was Derrick Goodwin.

Here is an extract from Mark Lewisohn's excellent book The Radio Times Guide to TV Comedy (1997):

"Bill Fraser – excellent as Snudge in The Army Game and Bootsie And Snudge – starred in this railway sitcom, cast as Hedley Green, station master at Burberry Halt, a decrepit, sleepy country spot on the Milchester Line. Time has stood still here, and Hedley Green (his name sounding a bit like a station itself) presides over his little bit of Olde Englande, still wearing the uniform of the long-since-demised Great Western Railway and utilising a rule book that came into force in 1933. Visited by three trains a day but never by any inspectors, the war veteran Green and his younger, more impressionable assistant, Peter Pringle, spend their time dealing with life's minor crises, usually caused by the area manager (a Mr Potts in the first series, a Mr Pitts in the second). Comfortable with the past, uneasy with the present and suspicious of the future, Green usually manages to muddle through, gaining vital and free sustenance from the one-penny Nestle's chocolate vending machine by applying a swift boot to the appropriate place. Outdoor scenes for the series were filmed on location at a disused station in Bodiam, East Sussex . The 'forgotten railway' premise was also the basis for Oh, Doctor Beeching!, screened by BBC1 from 1995."

Sounds suspiciously familiar. What a shame this show usurped the possibility of Parsley Sidings making it onto television.

Also in the cast of The Station Now Standing were:
Hugh Walters (Peter Pringle)
Pam Cundell (Rosie – Series 1)
Norman Mitchell (George - Series 1)
Bartlett Mullins (Mr Foskins – Series 1)
Arthur White (Fred – Series 1)
George Waring (Bill – Series1)
Geoff L'Cise (Charlie – Series 1)
Denis Lill (Mr Potts – Series 1)
Garfield Morgan (Mr Pitts – Series 2)
Brenda Peters (Brenda – Series 2)
Ken Wynne (Ken – Series 2)

EPISODE GUIDE
"Parsley Sidings may be many things, small, little used, but never shoddy!
It has always been a station to be proud of."
Horace Hepplewhite

Pilot

Series One

Ep 1

Ep 6

Ep 2

Ep 7

Ep 3

Ep 8

Ep 4

Ep 9

Ep 5

Ep 10

Series Two

Ep 1

Ep 6

Ep 2

Ep 7

Ep 3

Ep 8

Ep 4

Ep 9

Ep 5

Ep 10




THE ROYAL TRAIN


Plot: Station Master Hepplewhite's fears of his station being closed by British Rail are put aside for a while when he has to prepare for the Royal Train to pass through Parsley Sidings. Bertrand is trying to pluck up the courage to tell his father Horace he wishes to quit his job on the station. However, what would he be good at? When he was a milkman, he was fired for pushing the bottles through people's letterboxes! And what would his father Horace say?

Generations of Hepplewhites had filled the Station Master's shoes at Parsley Sidings, and as his only son, Horace expected Bert to take over when he retired. Meanwhile the Cockney spiv Percy Valentine is trying to sell a load of army surplus flares, passing them off as fireworks, and young Gloria Simpkins, the tannoy announcer, meets the signalman old Bradshaw for the first time.


Written by Jim Eldridge
Produced by Edward Taylor
Broadcast: 28 Feb 1971 on BBC Radio 2 - (in the Comedy Parade series)
Guests: This episode had no guest actors.


Notes: This pilot of Parsley Sidings aired in a short series of proposed pilot shows of radio comedies, under the anthology title of Comedy Parade. Two other pilots in this 1971 series were The Motorway Men (starring James Beck and Bill Pertwee) and Hush, Hush, Here Comes The Bolshie Man (also starring James Beck). The Motorway Men ran to eight further episodes in 1972.

Series One

Written by Jim Eldridge (all episodes)
Produced by Edward Taylor (all episodes)
Broadcast 2:30 – 3:00pm on BBC Radio 2, repeated the following Friday evening at 8:02 – 8:30pm

THE MARKET SPECIAL

Episode One, Series One


Plot: Horace Hepplewight has been reading a book on marketing your business to the customers and decides to make local railway trravel more attractive by offeringspecial excursion trains on Tuesday and Fridays to Bigglewick to take passengers to that town's market day. The tickets will include vouchers to Biggleswick attractions as well as the train fare, such as afternoon tea at the Robin Redbreast Tearooms and a film at the Bijou Cinema.


Percy runs a good publicity campign, putting posters up around the town to interest the Parsley Sidings locals, especially the housewives, into going to Biggleswick market day. Unfortunately when the train arrives, no-one turns up to board it, so Percy goes to town to see where they all are. The housewives have indeed all gone to Biggleswick, spurred into this outing by the adverts, however none used the train and all went by bus instead.


This left 47 cups of tea and four rows of cinema seats that Horace has booked in advance without any patrons. It seems the ladies chose the bus over their tain because of the bus driver, Harry Adonis, who they all swoon over.


So changing tact Horace decides, after Bradshaw puts the idea into his head, to instead promote rail travel with an open day for the publlic at the station. He and Gloria approach the Vicar to open the open day. And the Vicar has a craft one up his sleeve that will solve both the railway exursions and his service's own attendance problems.




Guest Characters:
Elizabeth Morgan (as Ethel, Miss Twillet and Woman in Cinema)
Kenneth Connor (as the Vicar)
Written by Jim Eldridge
Produced by Edward Taylor
Broadcast: 5 Dec 1971 on BBC Radio 2
Announcer: Eugene Fraser
P.O.A.'s: Eric Young, Mardi Eyes and Bill Aitken
Recorded: Wednesday 1st of December 1971 at the Playhouse Theatre, London
Recording No: TLN48/LG248L
Broadcast : Sunday 5th December 1971
Repeated: Friday 10th December 1971



THE POSTAL EXPRESS

Episode Two, Series One


Plot: British Rail assesses whether Parsley Sidings or Poltwhistle Holt is the more suitable station to install a railside pick-up and delivery point for express mail. But Phineas perkains, stationmaster at Poltwhistle Holt, is determined to help Parsley Sidings lose the competetion for the tender.



Guest Characters: John Graham (as Phineas Perkins, and the Inspector), Kenneth Connor (as Clara the hen)
Written by: Jim Eldridge
Produced by: Edward Taylor
Broadcast: 17 Dec 1971 on BBC Radio 2
Announcer: Robin Boyle
P.O.A.'s: Max Alcock, Alick Hale-Munro an Caroline Chamberlain
Recorded: Thursday 2nd December 1971 at The Playhouse Theatre, London
Recording No: TLN48/LG249L
Broadcast: Sunday 12th December 1971
Repeated: Friday 17th Dec 1971




Notes: John Graham was closely associated with Edward Taylor radio shows, providing many, many voices of minor characters in shows like The Men From The Ministry. Again in this series he played guest parts. In this episode he plays Phineas Perkins, the station master from Pottwhistle Halt, a character that is mentioned in other episodes and indeed appears later in The Flower Show, that time played by Bill Pertwee.

THE BEAUTY QUEEN CONTEST

Episode Three, Series One


Plot: Gloria Simpkins takes a few days because her sister is having a baby, and she wants to help out. Whilst Gloria is gone, Bert is put in charge of tannoy announcements on the station, with disastrous (and hilarious) results. Meanwhile Percy persuades Horace Hepplewhite to enter Gloria into the Miss British Rail competition, which is a contest to find not only the most attractive female railway staff member in the country, but one who is competent and knowledgeable about her job.

But when Gloria returns from her break, the men are disheartened to hear her reaction when she finds out they entered her. She is adamant that she won't take part. So Percy and Horace decide to get Bert to woo Gloria, and persuade her to participate in the contest. Bert takes her to Barley Field with a picnic of British Rail cheese sandwiches, and though Bert does not use the haystack for what Gloria hoped he would, in fact she doesn't even get a kiss, he somehow still persuades her to go into the contest. So off they go to Euston, and Gloria leads the way in her various fields of contest. Then she discovers that they want to see the girls parading in bathing costumes. This she point blank refuses to do.

Meanwhile, Bradshaw has got wind from Bert back at Parsley Sidings that Gloria is in the contest. He decides it is nothing but an orgy, and he leaves his post to race down to Euston and rescue poor Gloria. He arrives just when she has walked out, despite the contest organiser's pleas. Bradshaw decides they must 'borrow' an engine and get back to Parsley Sidings as fast as they can. However, he does not realise the engine he's nicked is towing the Railway Exhibition, with all the contest organisers and participants inside! In the end, Gloria wins the competition because she alone drives the diesel engine and her skills in doing so are perceived much greater than had she taken her clothes off. Miss Simpkins is crowned Miss British Rail!



Guest Characters: John Graham (as Sir Henry McVee, Euston Announcer, the Contest Organiser and the Scots Porter)
Written by: Jim Eldridge
Produced by: Edward Taylor
Broadcast: 19 Dec 1971 on BBC Radio 2
Announcer: Robin Boyle
P.O.A.'s: Max Alcock, Alick Hale-Munro an Caroline Chamberlain
Recorded: Thursday 2nd December 1971 at The Playhouse Theatre, London
Recording No: TLN48/LG250L
Broadcast: Sunday 19th December 1971
Repeated: Friday 24th Dec 1971




THE INSPECTOR CALLS

Episode Four, Series One


Plot: When Horace Hepplewhite discovers that Percy Valentine has been thieving diesel, and selling it through a sideline business he calls Percy's Paraffin Service, he sacks the guilty porter. But Percy pleads for clemency, so Horace relents and allows him to stay on under the provision that he pays back all the money to British Rail. This totals £52 (a lot of money in 1971), and Percy is very displeased with this decision. When he hears a Railway Inspector is to visit the station, Percy decides to play a few pranks to get Horace into hot water, as revenge for losing his little business.

But when the inspector arrives, the fact that he finds Bert in only his underwear (Percy has taken his suit to iron it – purposefully not giving Bert his suit back on time), Bradshaw is inept as usual in his signal box, and the tea that Gloria gives the inspector is in fact laced by Percy with senna pods – he decides to close the station. The Inspector must however visit the station one more time for a second inspection, due to rules, before he can close the station.


Percy feels very bad, but he realises the Inspector's main beef with the station is it doesn't service enough trains to warrant it being kept on. So for the next inspection he arranges for a mate to bring a borrowed train to Parsley Sidings, which is filled with locals, and the gang send it backwards and forwards round the sidings, each time announcing it as a new arrival. However when the inspector realises that each train has the same passengers getting on and off, he rumbles the scheme.

He decides to accost the driver next time he comes round. What he doesn't realise is this time it is a real train, and he grabs the bearded driver, trying to pull his beard off – thinking it is a disguise. The driver happens to be Carehardy Jones, a very bolshy union activist, who threatens a strike till Horace settles the affair with a little bribery – which sees the continuation of Parsley Sidings guaranteed!



Guest: John Graham (as the Inspector)
Written by: Jim Eldridge
Produced by: Edward Taylor
Broadcast: 26 Dec 1971 on BBC Radio 2
Announcer: unknown
P.O.A.'s: John Chatfield, Alick Hale-Munro, and Caroline Chamberlain
Recorded: Friday 3rd December 1971 at the Playhouse Theatre, London
Recording No: TLN48/LG251L
Broadcast: Sunday 26th December 1971
Repeated: Friday 31st December 1971
Note: The recording supplied to the DAAS NZ Branch unfortunately has a few seconds of radio broadcast from an Apollo moon mission taped over top. This does not detract too heavily but does mean that this episode is slightly incomplete.

THE 1890 ROCKET

Episode Five, Series One


Plot: Euston approaches Horace Hepplewhite, asking if they may loan the use of an old steam engine that the Parsley Sidings station has tucked away in their engine shed. They want it for a special exhibition. The Josiah Hepplewhite Rocket, built by Horace's grandfather in 1890, is now providing a place for Clara, the station hen, to make her nest. Rather than transport the engine on a train-carrying train as Euston suggests, Horace decides they will restore the Rocket to working condition, and he and Bradshaw will drive the train to Euston.

Not everything goes according to plan, and one of the least consequences they hadn't anticipated was Clara's protest at her eviction! But worse still, they set off without telling Percy, who has not yet fixed the brakes! The Rocket is headed straight towards Euston with no way of stopping it!



Guests: John Graham (as Stationmaster at Euston, and the Passenger), Kenneth Connor (as Clara the hen and McTavish)
Written by: Jim Eldridge
Produced by: Edward Taylor
Broadcast: 19 Dec 1971 on BBC Radio 2
Announcer: Eugene Fraser
P.O.A.'s: John Chatfield, Alick Hale-Munro and Caroline Chamberlain
Recorded: Friday 3rd December 1971 at the Playhouse Theatre, London
Recording No: TLN48/LG252L
Broadcast: Sunday 2nd January 1972
Repeated: Friday 7th January 1972

THE EXCURSION

Episode Six, Series One


Plot: When a branch railway station Steeple Upham is closed and the staff made redundant, Mr Hepplewhite decides that Parsley Sidings needs something to put their station on the map, so they too are not axed. The answer is an excursion train to Warple Hoxton.

If the trial excursion is a success then Euston will allow it to become a monthly fixture, the once-a-month Warple Special. Euston is lending them a 1930 era steam train 080609 with piston. The driver would be old Bradshaw, while Horace will be tour guide on the train to point out the local places of interest as they travel along. Meanwhile Bert is to take over the Signal Box while Bradshaw is away.

However when Fineas Perkins at Potwhistle Holt nobbles the trial, Percy has to think quickly to rectify the situation.


Guests: John Graham (as Chalky White, the the American Tourist), Ronnie Stevens (as the Excursion Passenger)
Written by: Jim Eldridge
Produced by: Edward Taylor
Broadcast: 19 Dec 1971 on BBC Radio 2
Announcer: Colin Nicol
P.O.A.'s: Eric Young, Alick Hale-Munro and Caroline Chamberlain
Recorded: Tuesday 7th December 1971 at the Playhouse Theatre, London
Recording No: TLN48/LG253L
Broadcast: Sunday 9th January 1972
Repeated : Friday 14th January 1972

CRICKET, LOVELY CRICKET

Episode Seven, Series One


Plot:



Guest: Ronald Baddiley (as the Postman and the Inspector)
Written by: Jim Eldridge
Produced by: Edward Taylor
Broadcast: on BBC Radio 2
Announcer: Barri Haynes
P.O.A.'s: Eric Young, Alick Hale-Munro and Lucy McLaren
Recorded: Sunday 12th December 1971 at The Paris Studios, London
Recording No: TLN50/LG255L
Broadcast: Sunday 16th January 1972
Repeated: Friday 21st January 1972

WHO'LL BE MOTHER?

Episode Eight, Series One


Plot: Horace's sister Maude Smallpiece has been staying with the Hepplewhites, much to Horace's great annoyance. It is not so much her presence that rankled with Horace, but that she had brought her baby son Cyril to stay and he'd turned the household upside down and screamed the place down. At last Maude leaves for home, however she forgets one vital thing, Cyril! The gang are left holding the baby, literally. Meanwhile Horace has to go to a stationmasters' conference, where he hopes to propose that the communication cord in trains should be situated on the floor for safety reasons, but before he manages to tell the audience, things go awry. Horace has brought the wrong speech, and actually begins reading a story Gloria had written for Cyril to the stunned railway staffers… "Imagine if all the trains went chug, chug, chug…"


Meanwhile, Miss Perkins cannot control Cyril's incessant crying, and so takes him to the conference, as only Horace can sooth the baby into submission – by shouting at him. But a misunderstanding at the conference door arises, and it is announced to all the stationmasters that the baby is Horace's own, and that he has abandoned Gloria!



Guest Characters: Pat Coombs (as Maude Smallpiece, and Cyril Smallpiece the baby), Kenneth Connor (as the Chairman at the conference)
Written by: Jim Eldridge
Produced by: Edward Taylor
Broadcast: on BBC Radio 2
Announcer: unknown
P.O.A.'s: Eric Young, Alick Hale-Munro and Lucy McLaren
Recorded: Tuesday 14th December 1971 at the Playhouse Theatre, London
Recording No: TLN50/LG254L
Broadcast: Sunday 23rd January 1972
Repeated: Friday 28th January 1972

THE CONCERT

Episode Nine, Series One


Plot: The vicar is running his annual concert, and four of the staff at Parsley Sidings will be taking part - or will they? Miss Simpkins is playing the mouth organ, Percy Valentine is telling jokes, and Bert Hepplewhite is to do some conjuring, but the vicar is not so keen for Horace Hepplewhite to once again give his annual recital of a poem his grandfatehr wrote called, "There's a little yellow headlamp, on the 8.15 to Crewe", all 98 verses, and hopes to drop him from the line up.


However as high winds took the roof off the church hall, the Vicar needs to borrow the station waiting room for the rehearsals. In order to get access to the waiting room he is forced to concede to Horace and allows him to go ahead with just 60 verses in the show.


Meanwhile the station gets a new 'speak your weight' machine for the platform. But whilst installing it, Bert and Percy drop and break it. And the Vicar's cousin, Miss Pennyfeather, sets her sights on Horace for marriage. But Percy has other ideas.



Guests: Charlotte Mitchell (as Miss Pennyfeather), and ? (as the Vicar)
Written by: Jim Eldridge
Produced by: Edward Taylor
Broadcast: on BBC Radio 2
Announcer: unknown
P.O.A.'s: unknown
Recorded: unknown, probably at the Playhouse Theatre, London
Recording No: TLN50/LG256L (unconfirmed)
Broadcast: Sunday 30th January 1972
Repeated: Friday 4th February 1972




GOODBYE, PARSLEY SIDINGS

Episode Ten, Series One


Plot: Station Master Hepplewhite is sitting his exams as an example to his son Bert. When the tea lady retires, the duties of the station staff are increased, so they get together and decide to take action. In the meantime Horace is offered a promotion to Assistant Station Master at Birmingham , and with the emergence of trade unionism in the ranks, he decides to take the job. When he departs he is replaced by Mr Trimwick, who plans to do things differently. Trimwick hates slackers and he wants to sack old Bradshaw.

He begins running the station as if it were a military camp, and all the staff are thoroughly miserable. Horace too is not enjoying his new post. The gang decides the solution is to get Horace back, but when Bert goes to see his father they both give off opposite impressions of how things really are. Eventually the situation turns out for the good of all, with Trimwick and Horace swapping jobs. An automatic tea machine is also purchased so Hepplewhite's buffet rota is out the window.



Guest: Bill Pertwee (as Mr Trimwick)
Written by: Jim Eldridge
Produced by: Edward Taylor
Broadcast: on BBC Radio 2
Announcer: unknown
P.O.A.'s: unknown
Recorded: 9th January 1972, probably at the Playhouse Theatre
Recording No: TLN50/LG257L (unconfirmed)
Broadcast: Sunday 6th February 1972
Repeated: Friday 11th February 1972





Series Two


Written by Jim Eldridge (all episodes)
Produced by Edward Taylor (all episodes)
Broadcast Saturdays 1:02 – 1:30pm on BBC Radio 2, repeated the following Friday evening 7:02 – 7:30pm

PASS THE PARCEL

Episode One, Series Two


Plot: Bert is put in charge of the left luggage office to keep him out of trouble, but when three packages in plain brown paper wrapping are left for him to attend, the inevitable happens. He gets the packages confused and gives each owner the wrong ones, The package containing Gloria's mothers 'smalls' from the laundry are given to the Brigadier who thinks it's the Reverend Spoon's presentation clock – the parcel containing the clock which the Brigadier should have had is thought to be a bomb, and doused in water – and the package containing a stolen vase is hotly pursued by the crook who stole it. Confusion and danger abounds.



Guests: Kenneth Connor (as the Reverend Spoons), Douglas Blackwell (as Brigadier Proudfoot and the Doorman), and Michael Elwick as the Crook.
Written by: Jim Eldridge
Produced by: Edward Taylor
Broadcast: on BBC Radio 2
Announcer: unknown
P.O.A.'s: unknown
Recorded: Wednesday 25th October 1972, at the Playhouse Theatre, London
Recording No: TLN43/LH149L
Broadcast: Saturday 29th September 1973
Repeated: Friday 5th October 1973

THE FLOWER SHOW

Episode Two, Series Two


Plot : When the vicar is unable to hold the annual flower show at his church, Horace volunteers to provide the Parsley Sidings station as the venue. However, things go awry when the station master of Pottwhistle Halt, Phineas Perkins, informs Horace that this is in fact against railway regulations, and that as a railway inspector is due to visit on the same day to inspect fire regulations, that Horace will undoubtedly lose his job. No alternative venue can be found at such short notice, and with the vicar practically blackmailing Horace; he decides the only course of action is to delay the inspector till after the flower show by showing him round the entire village for three hours But what he's forgotten is, as soon as the show ends, all the contestants head straight for the Dog And Duck, leaving their hundreds of flowers and veges at the station. Meanwhile Horace also has other problems, his prized pumpkin – which he proudly grew to a huge size by feeding it beer – disappears, and he suspects his arch-rival Phineas Perkins may be at the bottom of it. Plus he is dismayed that everyone forgets his birthday, thanks to Bert getting the day wrong.



Guests: Bill Pertwee (Phineas Perkins, the Station Master of Pottwhistle Halt; and the Vicar), Garard Green (The Railway Inspector), Kenneth Connor (the camp gift shop owner, and Clara the hen)
Written by: Jim Eldridge
Produced by: Edward Taylor
Broadcast: on BBC Radio 2
Announcer: unknown
P.O.A.'s: unknown
Recorded:
Recording No:
Broadcast: Saturday 6th October 1973
Repeated: Friday 12th October 1973



Note: When broadcast on the BBC the end credits were actually cut off due to a special announcement being made on behalf of the police about a series of major accidents on the M1 motorway. Therefore, exact details of the cast are not known, especially as the script seems to be lost too, but Bill Pertwee was definitely playing Perkins, and Garard Green was definitely the Railway Inspector. I am assuming that Bill played the Vicar, as it sounds like one of his many voices, yet I am not entirely sure. The other characters of Clara and the gift shop owner were definitely played by Kenny Connor.

THE ENTENTE CORDIAL

Episode Three, Series Two

Plot: Horace Hepplewhite goes for a week-long trip to France on an exchange programme with a French station master. He takes Gloria as his secretary. After visiting the French station with his counterpart Mr DuPont, Hepplewhite then meets up with the head of French Railways. Meanwhile at Parsley Sidings, Valentine has seen to it that Hepplewhite's temporary replacement does not arrive, and then he begins selling anything on the station that's not nailed down. He is even renting out an engine shed as a holiday home. When Hepplewhite and Simpkins return they set to it to prepare a welcome for DuPont by supplying continental food in the buffet, and painting red, white and blue on the station. However DuPont is more interested in Gloria Simpkins, and he decides he wants to take her back to France with him. It also turns out that old Bradshaw could be DuPont's father after a liaison he had with a French girl during World War One. Bert decides to woo Gloria to persuade her to stay in Britain , with little success until Gloria discovers that DuPont is actually married with nine children and only wanted her as his tannoy announcer. Hepplewhite plans to confront DuPont for leading her on, but before he does he hears that the Head Of French Railway has heaped great praise on his station, so he doesn't have the heart. DuPont is seen off cordially on his train.


Guests: Roger Delgado (as the French Station Master Monsieur DuPont), and Kenneth Connor (as Head of French Rail)
Announcer: unknown
P.O.A.'s: unknown
Recorded: 15th November 1972
Recording No:
Broadcast: Saturday 13th October 1973
Repeated: Friday 19th October 1973

A NIGHT OUT

Episode Four, Series Two

Plot: Bert has a part in the local drama group's play. He is so keyed up about his first role he mis-announces the last train and a female passenger, Miss Drake, becomes stranded at Parsley Sidings for the night. Horace decides she can sleep at their home, while he and Bert will have to sleep in the station waiting room so people won't talk. A series of events lead to policeman Inspector McDougall, who is tasked with stamping out a spate of crime on the line, suspecting rum goings on in the station at night. He tries to arrest Horace and Bert for burglary, Gloria for street-walking, and Bradshaw for goodness knows what! And they are expecting an important visitor in the morning, the Minister! The whole situation can only be cleared up by going along to the Hepplewhite home and asking Miss Drake to verify to Inspector McDougall that their story is true. But who should open the door late at night? None other than Percy Valentine!


Guests: John Graham (as Inspector McDougall and the Minister), Kenneth Connor (as Clara the station hen, and the Civil Servant), and Hilary Pritchard (as Doris Drake)
Announcer: unknown
P.O.A.'s: Max Alcock, Pat Mordedai and Paul Deeley
Recorded: Monday 23rd October 1972 at the Paris Studios, London
Recording No: TLN43/LH147L
Broadcast: Saturday 20th October 1973
Repeated: Friday 26th October 1973

THE GOODS TRAIN

Episode Five, Series Two

Plot : Parsley Sidings has been selected to be the goods depot for all the Parsley and Pottwhistle region. This is indeed an honour, as the station will now get more trains stopping to pick up or download goods, as well as passengers. Things don't start too well for the new service however, thanks to the stupidity of Bert on the first day, and Bradshaw on the second, the goods train does not stop at all. This leaves the station with five of Farmer Brown's sheep to cope with in their waiting room. After the second failure to stop, Horace and Bert take the sheep and mount an 1843 railway trolley, a pump cart that propels along the line when a seesaw style handle is pumped. They chase the train in the hope to catch it at Pottwhistle. But Percy realises that Bradshaw in fact was not in error with his signals, and the train that failed to stop, which Horace and Percy are now chasing, is actually the Birmingham to Euston Express. The points are all in the wrong direction for Pottwhistle, and Bert and Horace soon realise they're on the wrong line, and lost in the countryside. Eventually on the third day the sheep safely make it onto the right train. Meanwhile, Bert's desire to leave the railways has again emerged when he applies for a job at a woman's hair salon. When he receives a perfumed letter from Antoinne, the rather camp owner of the salon, Gloria thinks Bert has another woman, and Horace gets the wrong end of the stick completely and thinks Bert is romantically involved with Antoinne, another man! Luckily in the end for all, Antoinne goes off to London and Bert remains a railway Hepplewhite at dear old Parsley Sidings.


Guest Characters: Kenneth Connor (as Antoinne – or real name Harry Grunt – the camp hairdresser), Sean Kelly (as the newsreader), Liz Fraser (as a sheep)
Funny Credit : Credits end with "Produced by Edward Taylor and a sheep"
Announcer: Sean Kelly
P.O.A.'s: unknown
Recorded: unknown
Recording No: unknown
Broadcast: Saturday 27 Oct 1973
Repeated : Friday 2nd November 1973

A BIRD IN THE HAND

Episode Six, Series Two

Plot : Whilst spring cleaning and painting the station, the team from Parsley Sidings discover a rare blue-headed seagull, a species not seen in Britain since 1937, is nesting on their stretch of railway line, right in the way of the trains. The gang decide to try and save the bird's nest, but when Euston himself tells them to shift the bird and allow the trains through, Hepplewhite leads his team in a rebellion and they blockade the trains, forcing them round the sidings off the main tracks, so the bird can nest in peace. The 'Parsley Echo', the local newspaper, sensationalises the story, and the national press gets hold of the tale about their stand against authority, and soon the station is a birdwatcher's tourist attraction. But when it begins to rain, they discover the blue-headed gull is not all it seems, thanks to Bert's stupidity!


Guests: John Baddeley (as Charles LeStrange and the Train Driver), Kenneth Connor (as the Newspaper Editor)
Announcer: Sean Kelly
P.O.A.'s: unknown
Recorded: Wednesday 8th November 1972, at the Playhouse Theatre, London
Recording No: TLN45/LH154L
Broadcast: Saturday 3rd November 1973
Repeated: Friday 9th November 1973

THE PURITY LEAGUE

Episode Seven, Series Two

Plot : Horace Hepplewhite has become a member of the Parsley Sidings Purity League, a group that aims to stamp out morale corruption such as filthy films at the cinema, and drunkenness in the pub. But things go wrong for Percy when he gets drunk in the Dog and Duck, and is arrested for riding his bicycle under the influence. Can he keep Horace from seeing the court report in the Parsley Echo? And can they trust the Vicar's son Wilfred, who is spending time at the station?


Guests: Mark Rogers (as Wilfred), Gordon Clyde (as the Barman and PC Pimple) and Haydn Jones (as the Magistrate and the Train Driver, Henry)
Announcer: unknown
P.O.A.'s: unknown
Recorded: Monday 13th November 1972 at the Playhouse Theatre, London
Recording No: TLN46/LH155L
Broadcast: Saturday 10th November 1973
Repeated: Friday 16th November 1973

THE NEW LEVEL CROSSING

Episode Eight, Series Two

Plot: After years of submitting request forms, Stationmaster Hepplewhite proudly boasts that the automated level crossing he has long wanted has finally been approved for installation. However when Mr Ryan comes from head office o inspect the site for installation, he decides that Bradshaw's signal box is rotting and Bradshaw is past it. Ryan declares the signal box will be demolished, Bradshaw retired, and the signals and points will be all automated. When Horace protests, his resignation is accepted on the spot. Then the rest of the staff's positions are threatened because it is decided all of Parsley Sidings will be automated. It'll take a bit of Percy's cunning and some perfect timing to get the gang out of this scrape.


Guests: Bill Pertwee (as Mr Ryan and the Constable), Kenneth Connor (as Euston himself) and Garard Green (as Sir Henry McVee)
Announcer: Bruce Wyndham
P.O.A.'s: Alec Reid, Alick Hale-Munro and Caroline Chamberlain
Recorded: Friday 27th October 1972 at the Playhouse Theatre, London
Recording No: TLN43/LH151L
Broadcast: Saturday 17th November 1973
Repeated: 23rd November 1973

THE FILM MAKERS

Episode Nine, Series Two

Plot: T


Guests: Graham Stark (as Joe Simms), Elizabeth Morgan (as Dolly Byng) and Kenneth Connor (as Clara the hen and Hartley Whitley)
Announcer: John Dunn
P.O.A.'s: unknown
Recorded: Monday 6th November 1972 at the Paris Studios, London
Recording No: TLN45/LH153L
Broadcast: Saturday 24th November 1973
Repeated: Friday 30th November 1973

THE SECRET AGENT

Episode Ten, Series Two

Plot : Prince Abdul of Khazi, in India, is a very important man. He is also on a hit list for terrorists. When is train is due to be passing through Parsley Sidings in a few days, Station Master Hepplewhite is summoned to London to meet a man from MI5. The MI5 agent briefs Hepplewhite on the terrorist threat to the train and deputises Horace as an agency spy. He is charged with preventing anything from happening to the train whilst on his stretch of the line. When Horace returns to the station, he makes secret reconnaissance sorties to see where the station's weaknesses might lie. Whilst carrying out all this cloak and dagger stuff, the other staff members believe Horace may have flipped his lid, and they think he himself is planning to attack the train. With this in mind, they spy on him. When the train arrives, great confusion abounds resulting in a high speed chase and more.


Guests: John Baddeley (as Prince Abdul of Khazi and St Pancras himself), William Eedle (as the Taxi Driver) and Kenneth Connor (as Updyke and the Train Driver)
Announcer: unknown
P.O.A.'s: unknown
Recorded: Wednesday 1st November 1972 at the Playhouse Theatre, London
Recording No: TLN44/LH152L
Broadcast: Saturday 1st December 1973
Repeated: Friday 7th December 1973




A special thank you to Mr Jim Eldridge for supplying details from the remaining scripts in existence (yes, the BBC even lost some of these) and for additional information and a copy of 'Who'll Be Mother' and 'Goodbye, Parsley Sidings' to the DAAS NZ Branch.

Also thanks to Ian Beard for supplying correct broadcast details from The Radio Times, Steve Arnold for info from his British Comedy website, and Simon Denny, Bob Meades, Nick Randall and Colin McLeod for supplying the other episodes that the DAAS NZ Branch has so far.






Radio Times Listings Information

There is a Kenneth Connor interview for the first show, 5th December 1971, (see below), and small headshots of Lowe for the pilot and episode 1(below), a small line-drawing of Lowe and train for THE BEAUTY QUEEN CONTEST and one of Connor and tunnel/signals for THE INSPECTOR CALLS.





Below is a sample of the Railway Schedule from Parsley Sidings

10:45 to Upper Crumpton, stopping at Upper Warlock, Waddle-on Thrush, Little Nethering and Nerdle Crumpton

10:59 to Biggleswick, stopping at Pottwhistle, Walton-on-Tod and Nettle-by-the-Wode ( The Inspector Calls )

11:24 to Nerdle Crumpton. Change at Waddle-on-Thrush for Newcastle ( The Inspector Calls )

11:25 to Manchester ( The Inspector Calls )

11:27 to Warple Hoxton, stopping at Little Warple, Big Warple, Warple East, Warple West and Warple-on-Todmarsh ( The Inspector Calls )


Other towns on the local railway line that runs through Parsley Sidings
- Biggleswick
- Chidwick-cum-Pitkin
- Little Nethering
- Nettle In The Wold
- Nerdle Crumpton
- Pitkin-cum-Chidwick
- Pottwhistle Halt
- Upper Crumpton
- Upper Warlock
- Waddle-on-Thrush
- Walton-on-Tod
- The Warples (Warple Hoxton, Little Warple, Big Warple, Warple East, Warple West and Warple-on-Todmarsh)


Arthur Lowe
Arthur Lowe was born in the Derbyshire village of Hayfield on the 22nd of September 1915. The son of a railway worker, following school he worked for the Fairey Aviation Company in Manchester making aircraft. He tried to join the Royal Navy but was turned down on account of bad eyesight, so in 1938 he became a Territorial soldier. When war broke out in September 1939 Arthur was drafted into the full time army. He served in England, Ireland, Palestine and finally Egypt throughout the war – first as an engineer with the REME, repairing searchlights and radar equipment, and later in Service Entertainments.

Following demob in 1946 Arthur went into the theatre. He worked his way up through weekly rep until finally becoming noticed, and was by the 1950's playing to packed houses in the West End. In 1960 he became a household name as an original member of the cast in Coronation Street, playing the pompous little Leonard Swindley. This role lasted for five years in the soap, and when he left in 1965 the character was spun off to the comedy Pardon The Expression, which in turn was followed in 1967 with Turn Out The Lights. In 1968 he was cast as Captain George Mainwaring in Dad's Army, a role that has made him a television legend.

In 1971 he was cast as Horace Hepplewhite in Parsley Sidings, along with Dad's Army co-star Ian Lavender. In 1978 Lowe created another genius character in Redvers potter, in the BBC comedy Potter. This was followed soon by another classic character; he played Father Charles Duddeswell in the famous Bless Me Father series.

Throughout is career Arthur continued to work prolifically in television, films, the theatre, radio and even many advertisements. He toured the world on occasions in theatre plays, and preferred to do this than take an actual holiday. He often worked alongside his actress wife Joan Cooper. Arthur's other love was his steam yacht Amazon, which he'd lovingly restored to former glory after having acquired it as a derelict hulk.

Whilst touring in the play Home At Seven, Arthur Lowe collapsed in his dressing room at the Alexander Theatre, Birmingham from a stroke, and died soon afterwards on the 15th of April 1982.

Highly Recommended: Arthur Lowe by Graham Lord, a biography released in September 2002 by Orion Books

Recommended: Arthur Lowe: A Life by Stephen Lowe, a biography by Arthur's son released 1996 by Nick Hern Books. Re-released in paperback by Virgin 1997 as Arthur Lowe: Dad's Memory

____________________________________


Ian Lavender
Ian Lavender was born on the 16th of February 1946, in Birmingham. Following school Ian trained at the Bristol Old Vic School of Drama, and shortly after graduation was cast as Private Frank Pike, the famous "stupid boy", in Dad's Army. It was his fantastic role in this series that lead to his casting in Parsley Sidings in 1971. Here he played Bert Hepplewhite, the immature son of station master Hepplewhite.

Since Dad's Army Ian has worked extensively in the theatre and in small roles on television and radio. TV roles include guest spots in Keeping Up Appearances , Casualty and Yes minister. He continues to work today and is now a regular in the BBC soap EastEnders, plus he also has time for golf and gardening. Ian was an Honorary Member of the Dad's Army Appreciation Society New Zealand Branch.

____________________________________


Kenneth Connor
Kenneth Connor was born in London on 6th June 1918. His first stage appearance came when he was just two years old, in Portsmouth where his father, a petty officer on the Royal Yacht Victoria and Albert, was organising the service concerts for charity. In an interview he once said, "I've photographs that show a bunch of chaps dressed as black and white minstrels, my mother with a money box, my father with a banjo, and me perched on top of the barrel organ". Kenneth and his brother appeared in concerts throughout his childhood with his father showing him the basic steps.

When his father left the Navy to run a bar, Kenneth worked for him as a barman, and meanwhile he also took drama lessons. In 1933 he won a place at the Central School of Speech and Drama in London. In his final year at the school he won a gold medal. His first professional role was in J M Barrie's The Boy David in 1936, and he made his film debut three years later in Poison Pen.

During the war he served with the Middlesex Regiment, and when he demobbed, he toured the Middle East with the famous Stars in Battledress. It was at this time he met and became a close friend to fellow actor William Devlin. While in Cairo, Kenneth received a message from Devlin asking him to join him in the newly formed Bristol Old Vic. He jumped at the chance and set off for England in what he describes later as "the slowest boat journey on record". When he arrived at the theatre, he was on stage before he had time to unpack.

When he looked back on his three years at Bristol, playing classic roles and modern plays, he thought of it as one of the most satisfying periods of his stage career. He was however keen to pursue comedy roles and he found he had an irresistible urge to work in radio. This urge saw him work with Ted Ray in Ray's A Laugh, Jack Warner and Kathleen Harrison in Meet The Huggetts, and with Eric Barker in Just Fancy. These radio shows soon made him a household name to listeners. His success meant he was offered roles in the popular Carry On films, his first such appearance in this series being in 1958. He considered this to be a watershed in his career. He described the Carry On's as "Like a cork on an ocean of joy".

The Carry On roles led to further film and stage work, including a significant role in the West End stage play version of A Funny Thing Happened On The Way To The Forum, which had Frankie Howerd in the lead. Kenneth took over direction of the show when it went on tour, and fellow Carry On star Charles Hawtrey filled the West End role.

Another milestone in his career occurred when he starred in Hi De Hi, 'Allo 'Allo and Rentaghost on television. However he never watched his own work when it appeared on TV, "What's done is done", he would say, "and on with the next". But there is one Carry On that he always watched out for, Carry On Nurse, to see his son Jeremy, then aged three and a half, who comes in at the end to greet his real-life Daddy when he leaves the hospital. Jeremy appeared with him again years later in Carry On Dick, Carry On Behind and Carry On England.
Kenneth Connor died on 28 November 1993, in London from cancer.

____________________________________


Liz Fraser
Liz Fraser was born in 1933 as Elizabeth Winch. She started in show business in Tony Hancock's TV series but became better known playing the dumb blonde types in films like I'm All Right, Jack and Up The Junction. She was in four Carry On films, three of the earlier ones and one of the later ones. Her first appearance was in Carry On Cabby, where she runs the tea bar in the men's taxi office and acts as a spy in the male camp. In Carry On Cruising she plays Gladys Trimble, a passenger trying to find herself a man, and in Carry On Regardless, she is one of the Helping Hands, eager to get stuck in to any assignment. Her final Carry On role was towards the end of the series in Carry On Behind, in which she plays Sylvia, wife of Fred (Windsor Davies), who allows her husband to go away for a weekend of fishing with his mate Ernie, while she goes to a health resort with Ernie's wife. At the same time as this Carry On she also played several parts in the Confessions Of A … films.

She took over Janet Davies' role of Mavis pike for the Dad's Army film in 1971, and although giving a competent performance this was a very unpopular move with fans who thought Janet Davies had been usurped by the American producers. More recently she has been a regular on celebrity game shows like Give Us A Clue.

The Website

When I first got in touch with Jim Eldridge I told him about our website's tribute to Parsley Sidings. After he'd had a chance to see it himself he wrote to me:

"Yes, I did log on to the website, and found it fascinating. It brought back all manner of memories about making the series – all of them happy… I was 26 when I started writing them, and now I'm 57 … a long time ago!"

After an update to this site in July 2002 Jim wrote to me:

"Congratulations! I must say I am astonished at all your hard work and your dedication in tracking down the information - an incredible & formidable feat! You have done an absolutely superb job - thankyou!!"
All material published on this site, unless otherwise credited, has been written by and is copyrighted to Dave Homewood. ©2007. We hope that you will use this site as a resource to further your knowledge of the series.