Keith James Macdonald DFC


Prewar Serial Number: NZ36/39
Wartime Serial Number: NZ40981
RNZAF Trade: Pilot
Date of Enlistment: 4th of November 1936 till 6th of April 1937, then 9th of April 1940 until the 14th of January 1946
Rank Achieved: Squadron Leader
Flying Hours: 2369.45 hours
Operational Sorties:

Date of Birth: 30th of November 1916, at Dunedin
Personal Details: Keith was the son of Mr and Mrs F.W. Macdonald, who lived in Park Road, Auckland. Keith was educated at Grafton Primary School, and then Seddon Memorial Technical College in Auckland where he passed his Proficiency exams. he had received the Senior Free Place at the school and studied motor engineering at the college for six years, three in day school and three years in night classes.

In 1933 Keith began an apprenticeship as a motor mechanic, working with Winstones Garage in Symonds Street, Auckland. However he desired becoming an aero engine mechanic in the RNZAF, hoping to work at Hobsonville, so he applied on the 28th of March 1936 to join the service. Eventually in November 1936 he was enlisted and began a five month spell in the peacetime Royal New Zealand Air Force, which is detailed later.

Following his first RNZAF service Keith was employed by the Engineering Department of the Post And Telegraph Department in Middleton Road, Remuera, Auckland, as a motor mechanic again, and continuing to serve his apprenticeship. Around March 1939 he began repeatedly applying for a Short Service Commission with the Royal Air Force in Britain, but he had no luck as he was not considered fit enough.

On the 30th of November 1939, which happened to be his 23rd birthday, Keith was presented with his "A" Grade Motor Mechanic trade certificate, having completed the six year apprenticeship.

Keith applied for and was eventually accepted back into the RNZAF in 1940, and served till the end of WWII. He was glad to leave the P&T, noting in a diary "I'm not much good as an engineer, too slow for the time. Quantity is the scream all day, every day. I prefer quality. It's much better in the long run."

Keith served in the RNZAF till the end of the war. After the war he moved into farming, first working on a farm at Wharepapa from around 1945, then moving to Seymour Brunskill's farm at Whitehall, in the Cambridge district in 1947.

In 1950 Keith got his own farm at Pukekura, just south-east of Cambridge (and within the Cambridge district). He farmed there till 1978 when he sold his farm on to his son Stuart, and a couple of years later he retired to Red Beach, on the Hibiscus Coast north of Auckland.

Keith was always interested in engineering. On of his passions included yachting, and in 1938 he represented New Zealand for the world 18 foot racing yacht title, in Sydney, Australia. This race had a total prize pool of ₤250. The Richmond Cruising Club of Auckland sent four 18 footers - the Manen, Irena, Riptide and Vaalele - and their crews from Auckland to Sydney aboard the SS Awatea on the 18th of January 1938. In all 26 Auckland yachtsmen made the trip to crew the four yachts. Keith's crew consisted of himself, Charles and Ernie Hardman, Harold Cleghorn and C. Philpott (the skipper) making up the crew of Vaalele. they spent three weeks in Sydney racing, and most returned on the Awatea in mid-February 1938. None of the New Zealand boats won the race but they all had a great experience.

Other sports that Keith had been keen on when he was younger were soccer, being the captain of the junior team at Seddon Memorial Technical College, and rugby league.

In the postwar period Keith raced powerboats, including on Lake Karapiro across the road from his farm. He also enjoyed restoring old cars, and later in life he spent his retirement restoring a de Havilland DH82 Tiger Moth, an aircraft he'd flown many hours in during his youth.

1930's Service Details: Keith joined the Royal New Zealand Air Force at the Training Depot, Trentham, on the 4th of November 1936. According to general Orders No. 12, dated the 1st of December 1936, Keith and his fellow course members were enlisted on probation for twelve months.

His fellow course members were the following 24 airmen who were provisionally classified as Aircraftmen, 1st Class (Group III):

Harold Gorden Allan
Carl Herbert Aris
Herbert James Barley
Walter Andrew Chandler
Enoch Walter Clutterbuck
Arthur Joseph Gerity
Gordon Henry Grantham
Andrew Douglas Hall
Jack Hardy
Dermot John Tasker Holland
Henry Lionel Homer
John Pearce Horsley

James Dermot Hurley
Ralph Crowther Jones
Norman Arthur Webb Kitto
Ronald John Mason
Ian Leslie McCubbin
James Campbell Ritchie
John MacFarlane Robertson
Darcy Salkeld
Richard Sedon
Frederick George Swindells
David Huia Raymond Weekes
John William Millar Welsh:

Plus these four including Keith who were provisionally classified as Aircraftmen 2nd Class, 2nd Year (Group III).

John Richard Claydon
Lawrence Edmund Crossan
Keith James Macdonald
John Macintosh.

Under training at Trentham Camp. Keith is on the end of the row of students, nearest
to the officer. Photo Keith Macdonald Collection, via Stuart Macdonald

Trentham Camp in a postcard from the Keith Macdonald Collection, via Stuart Macdonald

During this period Keith was studying theory, and perhaps some practical knowledge, of aero engine maintenance, repair and overhaul at Trentham, learning about such engines as the Napier Lion and Bristol Pegasus. His intended trade was Fitter Aero, but he did not complete the twelve month course. Instead he was discharged at his own request to finish his apprenticeship on the 6th of April 1937.

He returned to civilian life and was working with the Engineering Department of the Post and Telegraph as detailed above..

Wartime Service Details: When the Second World War broke out Keith was keen to volunteer for Air Force service again, and so rejoined the RNZAF on the 9th of April 1940. This time around he was destined to become a pilot, and so entered the RNZAF at the Ground Training School, RNZAF Station Levin on that date.

His course proceeded onto their ab initio pilot training on the 7th of May 1940, at No. 2 Elementary Flying Training School, at RNZAF Station New Plymouth (Bell Block). They would be taught to fly in de Havilland DH60 Moths and DH82 Tiger Moths.

Keith's first flight at No. 2 EFTS was in DH60 Moth NZ519, on the 7th of May 1940, as a passenger, and flown by Pilot Officer Parker, who was to be his main instructor in the first half of this course. This was not his first time in an aeroplane however, when he filled in his application form to join the RNZAF in 1940 in the box that asked if he had ever flown before as either pilot, passenger or pupil, Keith wrote, "As passenger on many occasions, Also entered for 1 scholarship (flying). Very keen on flying."

Keith went solo in Moth NZ519 on the 15th of May having only had 6 hours 55 minutes dual experience, which was fairly low time to solo. He made several flights that day and went solo in Tiger Moth NZ853 later in the day too.

By mid-June 1940 he was progressing well, and acquired a new regular instructor, P/O Armstrong, for some reason. By the end of that month he'd flown 28.25 hours.
Trainees at No. 2 EFTS, Bell Block. On the left is Cambridge's own Brian Oliver, next is
P.H. Sinclair, third from left is A. Foster, and on the right is Keith Macdonald.
Photo Keith Macdonald Collection, via Stuart Macdonald
With the basics of flight training behind them, Keith and his twenty fellow course mates (including fellow Cambridge airman Brian Oliver who'd been training alongside Keith) progressed to their next course, shifting to RNZAF Station Blenheim (later to be renamed Woodbourne) on the 1st of July 1940.

The course in advanced flying training began with "A" Flight, the Intermediate Training Squadron of No. 2 Flying Training School (No. 2 FTS) there, and their course group was now known as No. 7 "War Course".

Keith was selected to undergo multi-engine aircraft training and on the 4th of July made his first flight at No. 2 FTS in Airspeed Oxford NZ1204. His instructor now was Flying Officer Newton-Howes, who took Keith through all manner of flying techniques, training him up in the Oxfords. having flown in the Oxfords for just 5 hours and 20 minutes, Keith went solo in the type on the 9th of July 1940.

On the 23rd of August, having now flown a total of 50.25 hours, Keith qualified under Kings Regulations And Air Council Instructions as a pilot, and was awarded his flying badge (the wings brevet).

Having reached this stage Keith and others who passed moved onto "B" Flight of the Advanced Training Squadron, No. 2 Flying Training School, on the 26th of August 1940, where they would now receive more purposeful service training. They would begin such training as formation flying, camera obscura training, air to ground gunnery, air to air gunnery, bombing and other such techniques.

Keith graduated on the 18th of October 1940 as a Service Pilot, and was commissioned as a Pilot Officer (on Probation) on the 26th of October 1940.

He was one of 13 from the course who were commissioned, the other 7 who passed out of training becoming Sergeants, with the 21st course member, Raymond Mason, having been sadly killed in a training accident in August 1940. Seven of the 20 new pilots were retained for service in New Zealand, and this included P/O Keith Macdonald. The others were posted to Singapore and Britain.
Above: War Course 7, in a photo from the Weekly News dated 23rd of October 1940. The location is No. 2 Service Flying Training School, RNZAF Station Woodbourne.

Rear Rank, left to right: Douglas Walter Grove Keesing; E.A. Pevreal; Patrick Stewart McBride; Keith James Macdonald; and Harvey Nelson Sweetman.

Middle Rank, left to right: A.M.H. Fleming; John William Purcivall; James Kerrow Porteous; Brian Elliott Oliver; A. Foster; R.S. Masters; C.G.W. Henderson; L.J.W. Mardon.

Front Rank, left to right; Charles Victor Bargh; Ivan Oswald Breckon; Roye Harold Watson Stevens; P.H. Sinclair; L.H. Black; Neal Aubrey Ward and M.S. Lund.

Sadly missing from this graduation photo was LAC Raymond Edward George Mason who was the only course member killed in training.

Photo Source: Weekly News, Air Force Museum of New Zealand MUS0801241, via Marty Fitchett

Rather than travel overseas like many of his mates, Keith was selected to undergo a course to become a flying instructor and retained in New Zealand. So he was posted the the Flying Instructors School at RNZAF Base Hobsonville, joining No. 8 Course there. At this school he would learn some advanced techniques and precision flying skills, as well as being taught how to pass on these skills to student pilots through the training system.

At this school he did some flying with, among others, Ron Kirkup who was already a household name from his civilian flying days and would later lead No 40 (Transport) Squadron; Mort Vanderpump who would later become a very well known RNZAF fighter pilot in the Pacific, and record-breaking pilot Ted Harvie, who is another Cambridge airman. He also flew a fair bit with other students on the course, and P/O Guild and P/O Clarke were likely Colin "Rosie" Guild and Maurice Clarke who he'd later fly alongside in combat with No. 14 Squadron.

Keith completed the Flying Instructors School course on the 26th of December 1940, He was posted from the course to become an instructor on Tiger Moths at No. 3 Elementary Flying Training School, RNZAF Station Harewood, at Christchurch. He made his first flight there on the 1st of January 1941, and took up his first student pilots, LAC Taylor and LAC Hunter, the next day. From this time on he was simply instructing student after student at Harewood, month after month on Tiger Moths. Keith was promoted from Pilot Officer to Flying Officer on the 26th of October 1941.

His time at No. 3 EFTS came to an end on the 25th of February 1942 when he flew his last Tiger Moth training flight. On the 28th of February he was posted to RNZAF Station Tauranga to begin a conversion course onto the modern North American Harvard advanced trainer. This took place at the Central Flying School of the RNZAF, which had developed out of the Flying Instructor's School that he'd previously attended, and again his instructor was Ted Harvie. Keith also did a bit of flying with a Flying Officer Karsten, undoubtedly this was Ralph Karsten who Keith would later fly with in the fighter squadrons and was very good friends with.

As well as the Harvard, Keith also got time flying in Airspeed Oxfords and Hawker Hinds at Tauranga. His last flight at this school took place on the 31st of March 1942, in Harvard NZ922, and he was now ready to go back to instructing in these machines.

Keith was posted from Tauranga to Woodbourne, and took up instructing duties there at No. 2 Service Flying Training School, on Harvard trainers. His first flight at the school was on the 1st of April 1942, with LAC Bunt, in NZ905. This is quite probably Lawrence "Bunty" Bunt who went on to become a fighter pilot and served in Britain, North Africa and Italy.

Following several months of instructing students on the Harvards, Keith's last flight in the type at this school took place on the 7th of October 1942, with LAC Wright in NZ922. With the RNZAF now building up its own fighter squadrons for defensive purposes, and eventual service overseas, many experienced instructors were being converted onto the Curtiss P-40E Kittyhawk and joining these new units.

This is what happened to Keith. He was posted to No. 2 (Fighter) Operational Training Unit at RNZAF Station Ohakea on the 19th of October 1942. On arrival he made his first couple of flights there with F/O Ralph Court in Harvard NZ971 to familiarise with the surroundings. Then Keith had his first P-40E flight in NZ3005 the following day, the 20th of October.

Training continued on both Harvards and P-40E's over the next couple of days, but a serious incident occurred on the 23rd of October. Keith was undergoing his second ever formation practice in the Kittyhawk, and was flying as No. 2 behind F/O Harry Eaton over the Foxton/Himatangi area. They were undertaking rolling and looping manoeuvres, and at the time of the incident Keith was trailing about 75 yards behind Eaton and concentrating on closing his formation up, thus staring only at Eaton's Kittyhawk. Suddenly Keith's P-40E collided mid-air with a Hawker Hind biplane that he'd not seen. The Hind was from No. 21 Squadron, flying form RNZAF Station Milson, at nearby Palmerston North.

Both Keith's P-40E (NZ3040) and the Hind (NZ1540) were badly damaged. In fact the Hind disintegrated on impact, and the P-40's wing collapsed in on the fighter and fell off. Keith found that the petrol, oil and glycol tanks had all burst and these volatile fuels were flooding into his cockpit. He had to get out of the stricken aircraft but his first attempt found that the hood was jammed shut. He managed to get the canopy off eventually and jumped for his life, exiting the aircraft somewhere between 1000 feet and 500 feet. His aircraft dived into the ground inverted, and dug itself in 20 feet, and burst into flames. The fire burned for around 40 minutes. Keith's escape from the aircraft by parachute was New Zealand's first successful exit from a P-40 by chute. It wouldn't be the last.

The Hind pilot, P/O Leonard Brown (NZ414582) was also able to bale out and 'take to the silk'. The Hind was also destroyed, but both pilots were safe and uninjured. An enquiry into the incident exonerated Keith from any blame. Both pilots qualified for membership to the Caterpillar Club.

Keith returned to the air in Kittyhawk NZ3011 the next day and his course at the O.T.U. continued. He completed the course successfully on the 28th of November 1942, and although at the completion of all his previous courses he'd been rated as an "Average" pilot, his assessment following this course rated Keith as "Above Average" as a pilot, and for aerial gunnery, and "Average" as a fighter pilot and in bombing. For the next two weeks he remained at Ohakea but made several cross-country flights in Harvards and Hinds, including one to Rongotai for the Court of Enquiry into that mid-air collision earlier in the course.

Keith was then posted from the Ohakea with his fellow OTU course mate Ken Morpeth to Fairhall Camp, a satellite airfield next to RNZAF Station Woodbourne. Here he joined No. 16 (Fighter) Squadron on the 10th of December 1942. The squadron was operating P-40E Kittyhawks and Harvards, flying in the defence of Wellington and the Cook Strait/Marlborough Sounds region.

Operational life in "B" Flight of No. 16 (Fighter) Squadron consisted of a fair bit of formation flying, along with bombing and gunnery practice in both the Harvards and Kittyhawks at Lake Grassmere. There were scramble interceptions in the P-40E's, and cross-country jaunts in both aircraft types to places like Masterton and Ohakea and return. There was plenty of practising mock attacks on each other, and the pilots also did some Army Co-operation work, training with the soldiers of local army units.

The airfield itself at Fairhall was somewhat secretive. From the air it looked like a farm, and in fact that's exactly what it had been. A small river cut alongside the squadron's dispersal area, and work huts were hidden beneath the willow trees that lined it. The camouflaged aircraft of the squadron were also hidden among the trees. Some small hangers were also erected but these would have looked from the air little more than farm sheds.

The officers at Fairhall lived in the large farmhouse which is known as "Woodbourne". In fact the adjacent RNZAF base was named after it, as the land it is sitting on was all part of Woodbourne Farm before it was purchased in the late 1930's to build the air base. The officers from No. 16 Squadron who lived there in the farm house all scratched their signatures into the inside of the front door, and these remain there today as a nice reminder of its wartime past. Following WWII the house and farm returned to the Walsh family whom the Government had taken it from for defence purposes and it remains in that family today.

On the 7th of February 1943, Keith joined a Detached Flight of No. 16 (F) Squadron at Tophouse, a landing ground that is inland of Westport and south of Nelson. Harvards from the squadron were based here, and various patrols were carried out such as a dawn patrol to Motueka and Nelson on the 9th of February, and a reconnaissance of Foxhill Spooners Ridge that afternoon, plus cross countries to Woodbourne and Nelson before returning to Tophouse. It is unknown if the RNZAF staff were staying in a tented camp or if they were accommodated in the historic homestead there, which remains a tourist attraction today.

Keith then joined another Detached Flight at RNZAF Station Nelson on the 13th of February, which was using the No. 16 (F) Squadron P-40E Kittyhawks. Various exercises were carried out there, before returning back to home base at Fairhall.

His time with No. 16 (F) Squadron came to an end on the 25th of February 1943 when Keith flew Harvard NZ1008 from Woodbourne to Ohakea and onto Whenuapai. Along with fellow No. 16 Squadron pilots F/O's Colin Guild, Ralph Karsten and Ken Morpeth, he was posted to RNZAF Station Whenuapai. Here the four pilots joined the newly forming No. 18 (Fighter) Squadron on the 18th of March 1943. Again he was to be flying the Curtiss P-40 fighters, however now he moved onto the newer model P-40K's. The intention was to form No. 18 Squadron under the command of Squadron Leader Gordon Coull, and when ready they would move up to Norfolk Island in the Pacific to give defence to that important strategic position. It would be a small squadron - really only a half squadron to start with.

However things were not going quite how Air Headquarters had hoped. Some squadron ground staff, including S/Ldr Coull, were sent up to Norfolk Island to prepare for their squadron's arrival. However the construction of the runway there by Australian forces was delayed, as was the arrival of the P-40K's to equip the new squadron.

So the pilots of No. 18 Squadron at Whenuapai had no aircraft to train up with and no leader, so they were "attached" to No. 14 (Fighter) Squadron, which had arrived at Whenuapai from RNZAF Station Masterton on the 13th of February 1943. No. 14 Squadron was a mobile lodger unit, and were preparing to advance to the Pacific theatre with their destination being Espiritu Santo.

Meanwhile through March 1943 Keith and his fellow No. 18 Squadron's pilots at Whenuapai continued to train with the No. 14 Squadron aircraft. They made cross-country flights to places like North Cape, Tauranga, Whangarei, Onerahi and Hamilton. Keith also got to fly the new P-40M Warhawks.

By this time the Japanese had withdrawn their main force from Guadalcanal and that important island fell into Allied control, so the need for a squadron at Norfolk Island diminished completely. So six No. 18 (Squadron) - keith along with Flying Officers Colin Guild, Ralph Karsten, Lionel 'Snow' Renolds and Pat Morpeth plus Sergeant Frank Ferrier - were all officially absorbed into No. 14 (Fighter) Squadron on the 25th of March 1943 becoming members of that unit, and No. 18 (Fighter) Squadron was disbanded.

There was no time at all to ponder this move as on that very same day that he joined No. 14 (Fighter) Squadron, Keith was ordered to be among the first pilots to set off and ferry aircraft north to the Pacific.
This photo taken on the 22nd of April 1943 shows some of the No. 14 (Fighter) Squadron pilots preparing to leave RNZAF Station Whenuapai. From left to right are P/O Rex Weber, F/Lt Harry Wigley, Air Commodore Maurice Buckley, Group Captain Geoffrey Roberts, F/O Ralph Karsten, F/O Keith Macdonald, F/O Pat Morpeth and Sgt Noel Hanna. Photo via Noel Hanna
A portrait of Flying Officer Keith Macdonald taken at RNZAF Station Whenuapai in April 1943 just before his departure north to the Pacific.
Air Force Museum of New Zealand Photo PR875, via Marty Fitchett

This was the first occasion in which fighter aircraft from New Zealand were to be flown north to Pacific bases. No. 15 (F) Squadron was already in the Pacific but they had acquired their P-40's at Tonga, second hand from the USAAF. No. 14 (F) Squadron was however taking its own brand new aircraft from home.

The group Keith set off in consisted originally of seven Curtiss P-40 Kittyhawks from No. 14 (Fighter) Squadron, and they were guided by two Lockheed Hudson reconnaissance bombers from No. 1 (General Reconnaissance) Squadron.They set off from Whenuapai and headed to RNZAF Station Waipapakauri, New Zealand's most northern operational station.

The first leg of this flight went smoothly, they stayed overnight at Waipapakauri and were ready to continue on next morning. The plan was to fly up in stages, first to Norfolk Island, then onto New Caledonia, and finally Espiritu Santo in the New Hebrides where they'd wait for the rest of No. 14 Squadron to arrive in following groups. It was impossible to fly directly to Espiritu Santo due to the lack of fuel endurance.

On the morning of the 26th of March 1943 the group took off at 7.00am from Waipapakauri with maximum fuel onboard. The Kittyhawks had enough fuel for six and a half hours of flight, or around 1200 miles. The Hudsons' range was much further.

Before long one P-40K, NZ3048 flown by F/O Geoff Fisken, had to turn back due to engine trouble and he made it back to Waipapakauri safely, but the rest of the flight continued on northwards. They arrived at Norfolk Island, where they refuelled, and took off again as a flight of eight aircraft at 2.43pm on the 26th of March 1943.

Before this leg of the journey there was much discussion about the weather ahead which was predicted to be not so good, and the fact that the pilots were flying into unknown territory near the end of their fuel endurance with predicted poor weather had many of the pilots concerned. Keith apparently made his views known but the senior officer at Norfolk Island, Wing Commander Ron 'Nugget' Cohen, was insistent that the pilots push on from Norfolk Island to New Caledonia. Keith had a stand up argument with Cohen but was over-ruled. The transit flight went ahead.

An hour into this leg, the P-40K flown by Sgt Frank Ferrier developed an oil leak and he was forced to turn back alone for Norfolk Island. he arrived back safely. The other seven aircraft, two Hudsons and five Kittyhawks, continued on.

Everything went well mechanically from there on, however as they arrived over New Caledonia coast the weather had well and truly packed in, with a tropical thunderstorm descending on the island. This made visibility impossible and the flight was unable to locate the any aerodromes. They searched for Tontouta airfield with no luck. In fact they had out of date maps with them too, and were unaware of other landing grounds available to them.

With fuel was running dangerously low for the P-40K's, the flight leader Flight Lieutenant Stan Quill of No. 14 Squadron, made the decision for the fighters to put down on a beach that they could see through the murky cloud near Noumea.

One by one the first three fighters landed safely onto the tropical beach, F/O Pat Morpeth in NZ3054, F/O Ralph Karsten in NZ3053 and Sgt Noel Hanna in NZ3049 putting down safely. However the beach was small and there proved to be insufficient room for Keith Macdonald to land his fighter, NZ3052, on the beach. He was forced to land in the surf, and Keith takes up the story himself in this note in his Flying Logbook:

"DUNKED AT NOUMEA"
On 2nd leg to Solomons Hudson escort failed to find New Caledonia island (Tontouta) in tropical storm. Had to land in the sea of N.C. out of petrol. On impact the hood jammed shut & could not get out. Machine went almost straight to the bottom "of the deep blue sea". Struggled out somehow, came up like a cork after Mae West inflated. Lost dinghy! Lost everything! Nearly lost head. Swam ashore and take to Mob 5 US Naval Hospital, Noumea, and boy what beaut nurses!"


Stan Quill reckoned now with the four aircraft down safely on the little beach there was insufficient room for him to land his P-40, NZ3051. So he flew it a little way out to sea and bailed out. Quill was uninjured and managed to get into his raft ok, and was rescued four and a half hours later, six miles off the shore. But his aircraft was of course destroyed. While Stan and Keith's aircraft were both lost to the sea, the three P-40's that were dry on the beach were later salvaged and re-entered service.

Meanwhile the two Hudsons returned to Norfolk Island, at the end of their fuel endurance. One had it's engines stop as it touched down, out of fuel, the other just had a couple of minutes fuel left. So another real disaster was only narrowly avoided.

It transpired that where the four aircraft had put down on or near to the beach, there was a US Navy hospital right adjacent to them, and hospital staff were on hand immediately to assist. Much to the great annoyance of the kiwi pilots they then discovered there was a new aerodrome only a couple of km's from the point they had landed/ditched called Magenta. In their briefing none of the Kittyhawk or Hudson crews had been told about this airfield, had they known about it and its radio frequencies they most probably could have all landed there safely when they'd failed to locate Tontouta.

It was some time before the four even knew the fate of their leader, Stan Quill, who after being rescued went straight back to New Zealand.
The four pilots down on the beach discovered there was a US Navy Hospital right next to the beach. Staff from the hospital came to assist immediately, and following a thorough medical check the four pilots were issued all new US Army uniforms. This photo was taken after they got into the new uniforms. Left to right are F/O Keith Macdonald, F/O Pat Morpeth, F/O Ralph Karsten and Sgt Noel Hanna. The photo was kindly supplied by Noel Hanna

Following a recovery time at the US Navy hospital, Keith was flown from Magenta air base by a USAAC Cessna up to Tontouta and back on the 2nd of April 1943, and the same day when back at Magenta he had a fly in a locally based DH82 Tiger Moth just around the local area.

On the 2nd of April, a Minute Sheet came through the admin system which read:

COPY
MINUTE SHEET
Squadron Leader Laughton Bramley.

The Prime Minister asked me yesterday to convey a message to the Fighter Pilots who forced landed or baled out at Noumea recently. He wishes them to know that he and the War Cabinet consider that they got out of a difficult and dangerous situation in the best possible way. I will be glad if you will see that the officers concerned get the message which I endorse.

I am sending a copy of this minute to Group Captain Wallingford.

(Sgd.) R.V.G.
C.A.S.

That abbreviated signature was that of Air Commodore Robert Victor Goddard, known as Victor Goddard, who was Chief of Air Staff (the highest ranked member of the RNZAF). Group Captain Sidney Wallingford was the highest ranked officer of the RNZAF in the Pacific theatre at the time.

On the 3rd of April he went for another joyride, this time in a Bell P-39D Aircobra. Keith noted in his logbook:

"Diced" in Aircobra
Took a Cobra "Cisco Kid" up & bloody near spun in.

So it seems he had another narrow escape there. His reference to "Cisco Kid" may well have been a nickname or nose art painted on the side of the Aircobra. Diced was RNZAF slang for risking it, or flying to extremes.

On the 6th of April Keith boarded a USAAF Douglas C-47 transport and was brought back down to Whenuapai where he rejoined his fellow No. 14 (F) Squadron members.

Interestingly on the 12th of April he went as passenger aboard a Hudson patrol bomber NZ2022during an anti-surface vessel radar test with Flight Lieutenant Prior as captain, and on the 16th of April he flew a conversion duel flight in Hudson NZ2034 with Flight Lieutenant Doug Paterson. That same day he went solo in the same Hudson. It's unknown if this was just for fun, or if he was seriously considering a change of role.

However on the 21st of April he was back in a fighter, P-40M NZ3077, which he once again set off for the trip north to the Pacific. He flew to Waipapakauri that day and overnighted there. One the 22nd he flew to Norfolk Island and again stayed the night there. On the 23rd he flew successfully from Norfolk to Tontouta air base at New Caledonia. And on the 24th of April he flew the same fighter up to "Buttons" airfield at Espiritu Santo.

On arrival at Espiritu Santo the new aircraft that the No. 14 (F) Squadron members had brought up from new Zealand were handed to No. 15 (F) Squadron, who were to take them on up to Guadalcanal. And No. 14 (F) Squadron took over No. 15 (F) Squadron's tatty older P-40E's and P-40K's which they'd in turn inherited from the USAAF.

From the 1st of May 1943 the squadron began to carry out a lot of operational patrols and scrambles in defence of Santo. A note in his logbook at this time states, "Bombed for the first time, more in store." And a slightly later note mentioned "Washing Machine Charlie. 4 Engined "Mavis."

The term Washing Machine Charlie was given to the high altitude Japanese bombers which came over mostly at night, sometimes alone or sometimes in pairs and threes or more. They were twin or four engined aircraft that invariably had their engines desynchronised so that the engine noise created a resonating pulse, which was designed to annoy those below, keeping them awake and raising tension in the war of nerves. They would fly around and around and Allied fighters at the time could not get enough altitude to engage them. The bombers dropped intermittent and indiscriminate bombs to punctuate the noise factor, often the bombs exploding harmlessly but forcing tired airmen from their bunks and into filthy air raid shelters and trenches in the mud.

The 6th of May saw aircraft from the squadron searching for a missing Boeing B-17 Flying Fortress, and Keith's logbook notes, "Found crew of B-17 who had found their way ashore after ditching in tropical storm." A nice success for the squadron to locate and help rescue an Allied crew.

By the 15th of May the tropical life was taking its toll on Keith and he was forced to stop flying for nearly two weeks. He noted in his logbook on the 27th, "Got fever for second time, just about had this place. 12 days in bed. Blacked out at ½ g after that lot."

On the 7th of June, between many patrols and other flights in P-40 Kittyhawks, Keith also gained some flying experience as second pilot in a Consolidated B-24D (or PB4Y) Liberator bomber.

The real action was about to begin for Keith and his fellow pilots when he boarded a C-47 transport aircraft on the 14th of June 1943. He was flown up to Henderson Field (codename "Cactus") at Guadalcanal. Here No. 14 (F) Squadron were relieving the No. 15 (F) Squadron pilots and took over their aircraft and their daily patrols and defence duties.

In fact 'A' Flight of No. 14 (F) Squadron was already at Cactus and had taken part in a fierce defensive action on the 12th of June 1943. A force of 74 Japanese fighters accompanied by enough bombers to bring the total attack force up to around 125 aircraft had made an attack on the Allied positions at Guadalcanal. Seven aircraft of No. 14 Squadron had scrambled along with numerous American fighters to meet them. The seven kiwis took on 21 Japanese fighters, and as a result they accounted six Japanese aircraft destroyed. However Keith's longtime mate Pat Morpeth was shot down into the sea and killed.

Life now for Keith and his fellow pilots was all about patrolling and hunting for Japanese aircraft around Savo Island, Tulagi, Rendova and Munda. They were also engaged with providing fighter escort to Allied bombers such as the US Navy and US Marine Corp Douglas SBD Dauntless dive bombers, Grumman TBF Avenger medium bombers, and Consolidated PB4Y Liberator heavy bombers.

On the 21st of June 1943 Keith was flying P-40M NZ3072 ("19"), the famous 'Wairarapa Wildcat' personal aircraft of ace Geoff Fisken, and during this patrol he was bombing and strafing shipping and transports off of Tulagi and Lunga Point around Guadalcanal.

A milestone came on the 30th of June when Keith flew his 2000th flying hour, during a patrol covering a task force between Rendova and Munda. He noted in his logbook; "2000th hour, what a celebration the bastards put on. Threw everything but the bathroom sink at us." The Allies landed at Rendova Island from this task force he was covering, taking another island back from the Japanese.

The first operational patrol Keith flew was on the 16th of June 1943, and his second patrol was later in the same day. Patrols from then on were almost daily with the occasional day off on stand down while others flew the patrols. Later the same day he flew a second patrol, once again covering the task force that was now landing on the beachead at Rendova, and patrolling through from there to Munda. This was the longest patrol he'd yet flown, four hours, ten minutes in duration. The two patrols that day totalled 7 hours, 30 minutes flying time. He noted in his logbook, "My poor behind!" Keith landed in the Russell Islands and had to get a C-47 transport back to Guadalcanal so there may have been a problem with his aircraft, which was coded "1". He returned to the Russells by C-47 transport on the morning of the 1st of July and carried out his next patrol from there.
Members of No. 14 (Fighter) Squadron at Kukum, Guadalcanal. Left to right are Arthur "Zoot" Stanley, Lionel "Snow" Renolds, Noel Hanna, Ron Nairn, Frank Ferrier, Paul Green, Keith Macdonald and Al Sievers. Photo via Noel Hanna
Keith Macdonald and fellow pilot Flight Lieutenant Errol 'Howard' Brown
Air Force Museum of New Zealand PR1178, via Marty Fitchett

On the 1st of July 1943 Keith had a close encounter with the enemy. Whilst flying Curtiss P-40M "22" he spotted a Japanese Betty bomber. He wrote in his logbook, "Chased a M96 for 20-30 miles west Munda, opened fire at about 600 yards. Later seen in the sea by the Corsair boys. Betty day M96. 09.20hrs. Couldn't get any closer, 290 flat out." Keith was not credited with shooting down this aircraft despite it being seen in the sea, so the full circumstances of this encounter remain mysterious..

While returning from his second patrol on the 1st of July 1943, Keith managed to help save his colleague F/Lt Errol Brown, known as Howard. In the preceding days Stan Quill had been forced down after his aircraft was shot up and so temporarily Howard Brown was the squadron's Commanding Officer.

Brown's P-40 had received damage from ground fire whilst he was circling another downed comrade in the water, P/O Jack Burton (who incidentally was later presumed dead). With damage to his aircraft at 11.00hrs, Brown was now forced to abandon his attempted rescue of Burton and to head for base to save himself. En route, having just passed Baraku Island, Brown's engine suddenly seized due to the oil leak that had developed and he was forced to parachute from his stricken aircraft. On hitting the water he and his liferaft became entangled in the parachute's rigging lines. On trying to free himself the raft escaped from him. He had a Mae West life preserver keeping him afloat but no raft.

'Zoot' Stanley, who'd been flying with Howard Brown, reported the position of the downed airman, and a rescue launch was dispatched. Another pilot with them, Maurice Clarke, noticed that Brown had lost his raft so he dropped his own, but Brown was unable to get to it. The wind was fairly high and thus the waves were rough. Stanley and Clarke were now forced to land due to low fuel. Being in rough sea with only a life preserver vest, the rescue launch was unable to find Brown.

It was at this time that Keith, now on his second patrol of the day having refuelled at Russell Island, began to search for his downed C.O., and eventually spotted Brown in the water. He too dropped his own partially inflated raft to Brown. But despite being just 50 yards away from Brown, he was unable to reach the raft in the swell. Keith also dropped a fluorescent sea marker dye to mark the position for easier visibility. He then found the MTB rescue launch, known as "Ploppy Joe", that was searching for Brown. He got the sailors' attention by firing his guns into the water and then zooming his aircraft in the direction he needed them to travel. Keith wrote, "At 15.00 I was attacked by the Russell Island patrol (four Wildcats) who were not at all friendly, & who caused considerable delay to me. The patrol thought that I was attacking "Joe"."

However the sailors on "Ploppy Joe" had cottoned on to Keith's intentions and followed him, finally finding Brown at 15.35hrs. He was pulled out of the sea after an ordeal of four and a half hours, exhausted but alive.

Patrols continued and so did the escort duties for US bombers which were "softening up" the enemy positions at Munda, New Georgia, in preparation for the intended Allied landing there soon.

Keith had two days rest on the 14th and 15th of July 1943, with a fever. On the 16th he returned to the action, escorting US North American B-25 Mitchell medium bombers to Banga, and carrying out skip bombing and strafing of two Japanese auxiliary vessels at Vella Lavella.

On the 10th of July 1943 Keith noted in his logbook, "Bombed for last time on the island", referring to the Japanese bombing Henderson Field. His tour was almost over and he tallied up the following in his logbook:

Squadron Score

22 Confirmed
6 Probables

Zekes 14
Haps 5
Oscars ?
Mitsu 96's Betty's 2
Floatplane Rufe's 1


Kittyhawk Op Hours = 81.00hrs - Strenuous
Warhawk Op Hours = 223.5hrs - How strenuous
Slit trenches - ?!!
Bombed 28 times - once in daylight only!!!!


On the 18th of July 1943, Keith was flown by C-47 back down to "Buttons" airfield at Espiritu Santo. On the 25th of July he was scrambled in a P-40E to intercept suspected inbound enemy aircraft. However he noted in his logbook, "No contact, recalled. Weather was filthy.

On the 31st of July Keith boarded an RNZAF C-47 flown by Flight Lieutenant Coney and returned to Whenuapai in New Zealand. From there he was taken to the Anti-Malaria Hospital at RNZAF Station Mangere. He noted about this, "14 days, pills, pills and more pills."


Following the two weeks in the malaria hospital, Keith seems to have had another two weeks leave, and then returned to No. 14 Squadron duties, now based at RNZAF Station Fairhall. He spent ten days there with the squadron, from the 5th till the 15th of September 1943, undergoing a special course using the cine-camera gun. This was newly introduced to New Zealand fighters and would film as the gun trigger was pulled to provide evidence of air to air kills or hits, or to analyse and assist a pilot to see where he's going wrong.

On completion of the course Keith was then posted to Lucaville, at Whenuapai. Here from the 26th till 29th of September he was air testing newly assembled P-40N fighters. Then his posting order came through. he was off to England.

Interestingly it seems this posting to Britain came about because a Minute Sheet from the Director of Operations, Wing Commander Pirie, dated 1st of September 1943 was sent to the Director of Personnel stating that because Keith had been suffering from recurrent prickly heat, had undergone the anti-malarial treatment, and was now also susceptible to Dengue Fever, it was considered he was no longer fit for tropical service. The recommendation was made by Pirie that since Keith had already served long terms as an instructor, he should instead be attached to the Royal Air Force where he could continue to contribute to operations.

However there may also have been a political motive to this posting, as late in life Keith told his friend Don Subritzky that at the end of the Pacific tour that the fight he'd had with Wing Commander Ron Cohen in Norfolk Island in April came back to haunt him. It had apparently put a real black mark on his career and he was told his services were no longer desired by the RNZAF after the tour's end saw the squadron return home. So perhaps the medical issues and this smudge on his career both conspired to see him posted out of No. 14 Squadron.

Just before he left New Zealand, Keith was given another logbook assessment, and this time was rated as "Above Average" in all three areas, as a Fighter Pilot, as a Pilot-Navigator, and in Air Gunnery. So his skills would certainly be very valuable in the UK with the Royal Air Force.

Keith wrote the following in his logbook:

"Posted United Kingdom 26th Sept 1943 (just three years overdue).Sailed from Auckland 9th October by Blue Star Liner "Columbia Star" via Panama Canal. Stopped Panama City for night, and Colon for 1 day & a night. Thence to New York via Yucatan Channel, 1 day & 1 night there. Thence to England in convoy, arrived Liverpool November 28th 1943."

On arrival in England Keith spent a month adjusting to conditions there at No. 12 Personnel Reception Centre, Brighton. He was at this unit for Christmas, and was posted on the 28th of December 1943 to No. 59 Operational Training Unit, at Milfield, Northumberland. his first flight here was on the 3rd of January 1944 in a Miles Master I, and the following day he converted onto the Hawker Hurricane. He flew the Hurricane on various exercises here till the 15th of January and then was posted onwards on the 24th of January to No. 57 Operational Training Unit at Eshott, Northumberland.

On January 31st Keith made his first No. 57 OTU flight, in a Miles Master again, and then the same day he converted onto the Supermarine Spitfire. he trained on the Spitfire through till February 14th, and then on the 17th he was posted to No. 485 (NZ) Squadron at Drem, East Lothian, in Scotland, to begin his second operational tour, on Spitfires.

On the 17th of February 1944, his first day on Squadron, he converted to the Spitfire VB (coded OU-D) and the following day onto the Spitfire Mk IXB (OU-O). On the 29th of February 1944 the squadron moved down to the Kent station of Hornchurch, and Keith flew down that day in Spitfire IX OU-S.

His first operational sortie was flown on the 4th of February 1944 from Hornchurch in Spitfire IX OU-Z, an escort for Martin B-26 Marauder bombers to Ghent, in Belgium, with a return to RAF Bradwell Bay. Many more escort missions for Allied bombers followed, as well as attacks on "No Ball" targets, which were the V-1 rocket sites that were then in construction but not yet in use. Allied Command were aware of what the V-1 ramps were for and knew they were not going to be good when the Germans began to use them, so priority was given to destroying them.

Keith also underwent an Army Co-operation course at Old Sarum, Salisbury, between the 15th and 31st of March. He then moved with the squadron on the 2nd of April to the Selsey advanced landing ground, near Chichester in Sussex. At this airfield the squadron was roughing it, living in tents rather than barracks, and gaining experience of living in the field under operational conditions as part of their preparation for the coming invasion of France. They continued to fly sweeps over Europe, dive bombing the No Ball targets, escorting bombers and flying reconnaissance missions, etc., from Selsey.

No. 485 (NZ) Squadron was part of No. 135 Wing, 84 Group, 2nd Tactical Air Force, and they were to be in direct support of the First Canadian Army when the invasion of Europe came.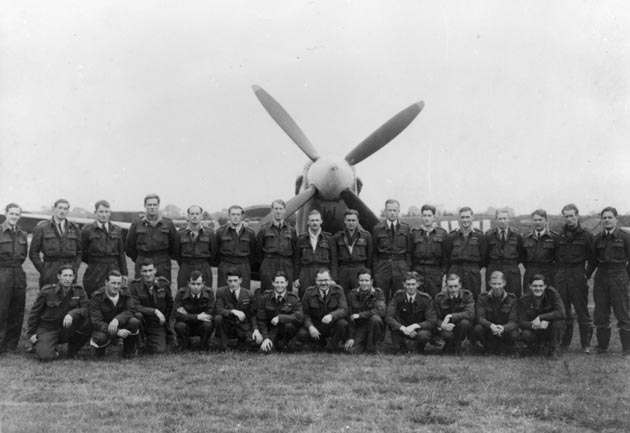 Above: Members of No. 485 (NZ) Squadron at RAF Station Selsey, England, in front of one of their Supermarine Spitfire IX's
Rear Rank, left to right:
Unknown Adjutant's Assistant;
Douglas Forrester Clarke DFC, AFC, CdeG(Belg)
Leslie Samuel McQueen "Chalky" White DFC
John Francis Pym Yeatman DFC
Allan Benetto Stead DFC
Herbert William Bernard Patterson
Lindsey Stuart Black DFC (Flight Commander)
John Brown Niven DFC* (Commanding Officer)
Owen Leslie Hardy DFC (Flight Commander)
Frank Transom
Terrence Stephen Franklin Kearins
Desmond Xavier O'Halloran
Desmond A. Roberts
Keith James Macdonald DFC
Clinton McInnes
Maxwell Amner Collett mid
Front Rank, left to right:
Edward George "Eddie" Atkins
Athol J. Downer
William Adino Newenham DFC
Royce Harry de Tourett
John Arthur "Johnnie" Houlton DFC
James Norby King (Adjutant)
Donald Graeme Lane Taylor
Joseph J. Robinson
Lloyd Mackay Ralph DFC
Maurice Colgan Mayston mid
Russell Murray Clarke DFC
Photo Source: Weekly News, Air Force Museum of New Zealand MUS0801241, via Marty Fitchett
On the 2nd of June an important attack pre-invasion was made by Keith and the squadron on radar installations at Douvres, north of Caen. Then he had a couple of days off flying, returning to ops on the morning of the 6th of June 1944, D-Day for Operation Overlord, the Allied invasion of France. This was the largest seaborne and airborne invasion in history. No. 485 (NZ) Squadron would be in the thick of it.

On the first patrol of the day Keith was flying in Blue Section with F/O Johnny Houlton, F/O Maurice "Red" Mayston and Sgt Eddie Atkins. They patrolled the area over the beachead were the Canadian Army was landing, from St. Aubin to Ornerner. Keith was flying OU-R on this trip.No enemy aircraft were sighted.

D-Day Kill: On the second patrol that day Keith was again patrolling in Blue Section with Johnny Houlton, Red Mayston and Eddie Atkins. This time Keith was flying in Spitfire IX MK732, coded OU-U, and carrying the nickname Baby Bea V.

Blue Section took off at 14.45hrs for this patrol and were providing low cover for Neptune in the East Sector over the landing beaches. Johnny Houlton decided to take Blue Section a little further inland than they had been told to patrol, because the squadron's two previous patrols that morning had seen no enemy activity - which it turns out was the case for all the other Allied fighters covering the beach landing too up till this point. But only a little inland the Blue Section pilots spotted three Luftwaffe Junkers Ju88 bombers. Making an attack the first was downed by Houlton single-handedly, and the second was attacked and destroyed by all four pilots, who each gained a quarter-kill to their credit. This was later confirmed to be the first and second air-to-air kills by any Allied unit over the Normandy beachhead on D-Day and thus the first kills in the Second Front. A very proud achievement for the New Zealand Spitfire squadron. Keith's own logbook entry states:

"Blue Section chased and destroyed 2 Ju88's going south from bridgehead area Carentan-Periers.
1 flamer. Three baled out of crew.
1 crashed in paddock, 1 bailed out
Sighted and chased two 190's, disappeared in cloud.
Port engine of first Ju88 set on fire. (stopped Starboard prop with numerous other bits and pieces (including bodies) fell off 2nd one. Kept firing until aircraft crashed.)"

Keith's Spitfire on this occasion, MK732 (OU-U), happens to still exists today, and flies with the Royal Netherlands Air Force Historic Flight. Johnny Houlton was flying Spitfire ML407 (OU-V) which also still exists today and flies in England with the Grace family, as a two-seater. Keith also flew ML407 on other occasions and his son Stuart has proudly visited it and sat in that aircraft.

Through the rest of the month of June the squadron, including Keith, continued to fly daily beachead patrols. On the 10th of June he and his section chased two Focke Wulf Fw190's, and his logbook notes "Had a squirt more in hope than anger!!" However the enemy aircraft were not downed.

The Germans began to use the dreaded Fieseler Fi 103 "V-1" Flying Bomb, later to be nicknamed the Doodlebug by the Allies on the 13th of June 1944. These first pulse jet powered bombs were launched from the surviving rocket rails that the Allies had been trying to knock out for some time - these being the No Ball targets.

On the 15th Keith flew close support for 300 RAF Handley Page Halifax and Avro Lancaster heavy bombers making a raid on Boulogne. In his logbook he noted, "Best display of concentrated bombing to date (& fireworks). Approx 1500 tons in 20 minutes."

It was either on that Boulogne escort or the next day - the 16th of June during a Beach Head Patrol in the Eastern Flank as the logbook is a little ambiguous as to the date - Keith's Spitfire was hit by flak while flying over Tilly-sur-Seulles. The result was a burst tyre but he got down again at base ok.

The squadron, along with Keith, escorted 32 Douglas C-47 transports to the beachead on the 20th of June.

Keith and the squadron moved from Selsey to Coolham, Sussex on the 30th of June 1944 and then again to RAF Funtingdon on the 6th of July. From these airfields he was involved in many escort missions for varying forces of Lancasters, Halifax, Stirlings and B-25 Mitchell bombers attacking the No Ball targets almost daily through July. On the 6th of July the Spitfires chased a dozen Fw190's that had attacked the bomber formation.

One escort operation that stood out was on the 18th of July when the squadron was involved in escorting around 1,100 heavy bombers, mostly Lancasters, to attack Caen. Keith noted in his logbook, "Big hate session this morning. A hell of a lot going down & a bloody lot coming up!!"

The Squadron continued with the bomber escorts through August, though he was forced to return from one escort mission of 300 Lancasters on the 3rd of August when he had engine trouble, with the top blower proving to be unserviceable.

During a fighter sweep on the 5th of August Keith attacked a German staff car which resulted in it rolling over and ending up in a ditch, at Falaise. He then "strafed a lorry and left smoking" on the same sweep.

Again their base of operations changed when they returned from Funtington to Selsey on August 6th. However on the 18th they were on the move again to RAF Tangmere

During the middle of August before heading to France, Keith had a fair bit of air-to-ground success, noting in his logbook the following attacks made"
- Attacked 1 large transport (destroyed) Amiens area
- Attacked 1 large lorry (damaged) Amiens area
- Attacked 1 Searchlight (put same out) Albert
- Strafed 1 locomotive and 2 lots of 20 loaded flat trucks (St Quentin railway)
- Strafed 1 bulldozer and van (Cambrai area)
Without further research it's not known exactly which day or days these incidents occurred.

During an escort mission of B-25 Mitchells and B-26 Invaders to bomb Rouen on August 26th Keith gave personal escort home to one B-26 that had lost one engine. The Invader and Keith both landed safely at the Allied airfield known as B5, where Keith refuelled before continuing back to his base at Tangmere.

Keith attacked and damaged two German staff cars and lorry two miles north of Lille during an armed reconnaissance flight of the area between St Omer and Cambrai on June 30th. The lorry was left smoking after completing his attack.

On the 31st of August No. 485 (NZ) Squadron moved from Tangmere to Carpiquet, an Allied-held aerodrome in Normandy, France.

Through September 1944 the squadron was undertaking fighter sweeps and armed reconnaissance across vast German-held parts of Europe. Several operations included the dive bombing of enemy positions in support of the advancing Allied Armies. On the 10th of September 1944 he had a scare when returning to Carpiquet following an armed recce flight over Breda, in the Netherlands. His tyre burst on landing and his Spitfire (OU-Q) went up onto its nose. He was unharmed however and on the trip, during which he'd landed at Brussels airport and refuelled, he'd attacked one locomotive engine at Breda which had blown up, a heavy transport also at Breda which was also destroyed, and two lorries at Eindhoven which were left smoking too.

On the 14th of September while carrying out an air test of Spitfire OU-T Keith took the opportunity to have a look at the Vimy Ridge Memorial at Arras, a reminder of the First World War that was fought in the same regions of France and Belgium that he was fighting in now.

The following day on the 15th of September 1944 Keith was tasked with dive bombing the quays at Dunqerke (Dunkirk), the famous place of escape for so many thousands of Allied soldiers in 1940 as France was falling to the Germans. He dropped a 500lb general purpose bomb onto a German ration store at the docks.

The next day he was bombing and strafing German gun emplacements south of Boulogne, and then on the 17th of September he returned to Dunkirk and bombed a German barracks there.

A great deal of the flying Keith was doing was in Spitfire IX OU-T, which carried the serial number PT881, and wore the comical nickname on its cowl "Thunderguts". It's not known if Keith named the aircraft or someone else in the squadron, the aircraft were shared around a fair bit to whoever needed them when whichever was available, although individual aircraft were allocated to pilots who'd be responsible for that aircraft during times that that certain maintenance like compass swings or air tests were needed and ferry flight transfers, etc. As well as OU-T, Keith had flown OU-Q and OU-V a fair bit over the past couple of months. The latter was Johnny Houlton's personal aircraft, ML407.

The 1st of October saw Keith flying PY881 OU-T on another armed reconnaissance over the Netherlands, during which he strafed a coastal vessel, of approximately 500 tons at Aalburg. it was left smoking and he claimed it as damaged. He also attacked and damaged four barges on this trip, and noted "Flak something bloody awful !!!"

The next day Keith dive bombed and strafed German 88mm gun positions around a canal in Breda, and on the 6th of October he bombed and strafed an enemy strong point and gun positions south of Flushing. A second mission the same day saw him bombing and strafing enemy guns east of Bruges, Belgium.

On the 7th of October Keith was engaged in strafing enemy troop concentrations hiding in a wood near Poppel, north of Turnhouse. he followed this by bombing guns at the same position on the 12th of October, and on the 13th he bombed a German fort at Waterloo, the Netherlands. Next day on the 14th he bombed and strafed a railway station and marshalling yards at Bergen-op-Zoom in Holland.

The 16th of October saw Keith bombing enemy gun positions at Oostberg using, dropping the bombs at very low level having enough time to get far enough away before their 11-second fuses exploded the weapons. he also strafed Breskins on this trip. The exact same low level attack on the following day in the same place saw Keith destroy a Motor Transport vehicle. And later that day low level strafing and bombing of enemy trenches at Courtrai.

A return to strafe 100 to 150 enemy troops at Oostburg with great success, and damage a lorry and a car occurred on the 19th of October, and he attacked gun positions in the same area on the 20th. This was his last operation with No. 485 (NZ) Squadron for the time being. he was posted to No. 222 (Natal) Squadron RAF, as their new "B" Flight Commander.

Keith arrived at Merville, in France, to join No. 222 Squadron on the 23rd of October 1944. Here he gained experience as a combat leader, still flying Spitfire Mk. IXB's initially. It appears he was allocated the Spitfire coded ZD-X as he flew this most often, and from the 28th of October he commenced operations, again doing low level bombing and strafing of gun positions.

November 1944 saw an array of operations where Keith was flying from Maldegem, including such missions as a shipping patrol and providing target support for Lancasters, to bombing bridges to armed reconnassance flights over the Netherlands, and dive bombing Dunkirk again. There was even a rail interdiction at Arnhem.

But on the 5th of December 1944 No. 222 Squadron boarded C-47's and moved back to England. Now based at RAF Predannack, Cornwall, Keith began conversion to Hawker Tempest fighters, and over the next few weeks did a lot of training flights in the type.

In February 1945 the squadron was fully trained up on this new fighter type and ready to return to the Continent, but at this point Keith was posted back to No. 485 (NZ) Squadron, which had arrived at Predannack. His new posting saw Keith become the the Commanding Officer of the squadron, and his experience with the Tempest was valuable as No. 485 (NZ) Squadron was also now converting to Hawker Tempests. However this conversion ended up being a false start and the squadron reverted to Spitfires.

By late April 1945 the squadron was back flying the venerable Spitfire IXb and flying operationally. On April 24th Keith led his men on an armed reconnaissance operation that took them to Emden - Borkum - Willulmshaven and Bremen. In the logbook notes he wrote;

"Strafed an auxilliary lighter off the Frisians. Few fighter flak holes spinner, prop, rad. etc. Clapped in hospital 54 mph touchdown, then to No. 8 General Hospital, RAF Brussels for three weeks with ear trouble."

So it sounds like Keith had a close shave on his last wartime operation. he was still in hospital when, on the 8th of May 1945, the war in Europe ended. In his logbook on the 8th of May 1945, Keith wrote:

"Brussels, May 8th (VE day) May 7th the unconditional surrender of all German forces in N-W Germany opposing the 21st Army Group. Therefore operations on this front brought to a close on 08.00hrs 7th May of the year Nineteen Hundred & Forty Five."

It was on that very same date that the war ended that Keith was awarded the Distinguished Flying Cross. The Citation reads:

"Squadron Leader Macdonald has flown two tours of operational duty. During his first tour he destroyed an enemy aircraft and assisted in the destruction of two auxiliary naval craft. Since D-Day he shared in the destruction of two Junkers 88, both of which crashed into the sea, he has personally destroyed 12 mechanical transports, damaged a further six, as well as having participated in the destruction of a 200 ton cargo boat, 4 barges, 2 locomotives and a further 20 trucks. In October 1944, whilst on a mission over the Rhine, this officer sited a 300 ton coastal vessel. Despite intense anti-aircraft fire, he delivered a telling attack. Throughout, Squadron Leader Macdonald pressed home his attacks to the fullest advantage, and his coolness in the face of the enemy has always been worthy of the highest praise."

Out of hospital he was from the 6th of June 1945 back flying Spitfire IXb OU-T all around Europe for the rest of the month. On the 24th of June he also flew a Messerschmitt Bf108 Taifun with Squadron Leader Carey as his passenger from airfield B105 to Celle.

On the 30th of June flew an Auster with F/O Carson from airfield B118 to R16 to B105 to B118. He then had a go at flying a captured German Focke Wulf Fw190 but his log entry states "No luck, duff motor!"

That was his last day of military flying. In July 1945 Keith was posted to No. 9 Personnel Despatch Centre in order to make the journey back to New Zealand and dembobilisation. Following the war he went into farming in the Cambridge district.

Date of Death : 1st of March 1995, at Red Beach, Auckland. Keith was cremated.


Connection with Cambridge: Keith farmed at Pukekura, very near to Lake Karapiro, postwar for many years before selling the farm to his son Stuart, and eventually retiring to Red Beach, Hibiscus Coast.

Thanks To: Stuart and Colleen Macdonald, Marty Fitchett, Don Subritzky, Jim Mungall, The Cambridge Museum, Les Bilcliff, David Duxbury and others for information included on this page
References: By Such Deeds by Group Captain Colin Hanson; Air-To-Air by Chris Rudge.

Keith Macdonald's wartime RNZAF I.D.
Form the Keith Macdonald collection, via Stuart Macdonald
________________________________________________________________