Wartime RNZAF Advertisements


During the war the Royal New Zealand Air Force had such an inspirational image that the advertisers began to use the Air Force as a sales icon. Below are some interesting advertisements from various newspapers and magazines that used the RNZAF and wartime aviation in general as a theme to help sell various products. Click on the category for easier navigation.

If a picture does not load, please refresh your browser, or right click on the photo and click "Show Picture" in the menu that pops up.

Recruitment Advertisements

A coloured advert fo the RNZAF from Contact magazine

A recruiting advert from the Waikato Times in 1943. It seems as though the advert wants applicants to hurry up and
join before the war is over and they miss out on all the fun.

As well as men, the RNZAF needed women for the WAAF

And the Air Training Corp too

War Finance

The constant need for funding for the war effort would often produce adverts with an Air Force theme, like
this one from Contact in 1943

This advert, funded by Bayer's, is promoting National Savings too

Another war loan advert

Aviation

The following seven advertisements are for the de Havilland factory at RNZAF Station Rongotai which
made Tiger Moths for the RNZAF and also serviced their Dragon Rapides and Dominies. The New Zealand factory did not manufacture Mosquitoes as the advertisements imply . These appeared in the New Zealand Observer magazine in 1944 and 1945.

Miles Aviation made a number of types of trainer and communications aircraft that RNZAF pilots used in
Britain and elsewhere. This advert appeared in RNZAF Contact magazine in May 1945, and
several other issues too

Food And Drinks


These three interesting advertisements for the still-popular brand of tea that depict recognition chart pictures to educate Kiwi's in spotting Japanese bombers and fighters. The top one is sourced from from a 1943 issue of the Waikato Times, whilst the other two come from The New Zealand Observer magazine

An advert aimed at the civilians who also read Contact magazine. Many food and goods manufacturers produced
ads with this theme - we can't sell you it at the moment but we're still around and will be back in your pantry after the war



This excellent advertisement for the now defunct Waitemata Pale Ale beer features a Spitfire

Another advertisement for Waitemata, featuring an New Zealand soldier, sailor and airman, all enjoying their favourite drop of Kiwi beer

A parachutist, possibly an RNZAF airman, jumps from his aircraft to get some Lemon and Paeroa, now
known as L&P (a Coca Cola product now, then in the 1940's it was Grey & Menzies who made it)

Personal Hygiene and Grooming

Another 1943 advert from Contact magazine, in which the still-popular Gillette razor blades
use a fighter pilot to promote their weirs

Protex Soap

A 1943 advert fro Kiwi shoe polish from Contact magazine in which the Kiwi becomes a bomber pilot in
the RNZAF! Every airman and airwoman became familiar with boot polish - one of the many chores of the military

Kiwi's rival Nugget also used an Air Force theme to advertise in Contact

The laundry detergent Persil used an airman in one of its ads in several 1943 issues of the Waikato Times

Cashmere Bouquet cosmetics. This advert features an RNZAF Squadron Leader with his wife

Wrights Soap also used an RNZAF officer and his wife to sell their product

Clothing

Like the soap adverts above, Tootal crease resistant fabric used the image of an RNZAF officer and an RNZAF airman admiring their lady-friends in their adverts
An advert from RNZAF Contact magazine for Ballantynes department store, a firm that
still exists and is going strong
Rainster was a popular brand of ladies' fashion in World War Two
And here is what all that shoe polish went on, Monarch service shoes, again from Contact in 1943
This is a local Cambridge advert from the Waikato Independent newspaper where the F.A.C. department store
used Air Force imagery to explain their lack of rubber goods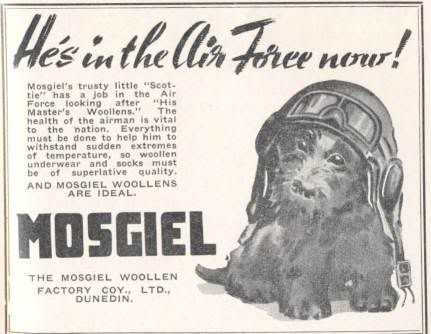 Isn't he cute! An advert from a 1943 Contact issue. Mosgiel the Scotty Terrier had been an advertising icon of
this woolens firm since before the war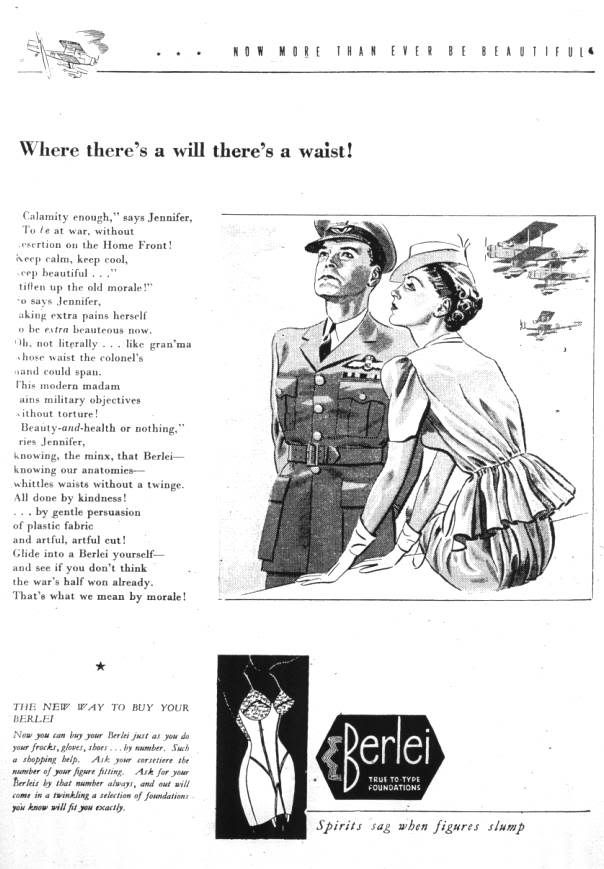 I really like this advert, mainly because it features Vickers Vincents or Vildebeests in it. I love the slogan, "Spirits Sag
When Figures Slump"! Scanned from the New Zealand Observer, 1941
Cigarette Manufacturers
One area that really used the RNZAF icon in their advertising were the cigarette companies. Here are several different brands all playing on an Air Force theme... Note: The following is in no way meant to be a promotion of smoking. I am a non-smoker and I don't particularly like cigarette manufacturers. But in the context of the day, when RNZAF personnel were actually encouraged to smoke by the Medical Officers to calm their nerves, this serves as a historical look back at the times when the average person had no idea of the effects and dangers of smoking. The adverts are rather evocative of boy's own adventures and daring do
Craven A was a popular brand in the 1940's. Here a pilot enjoys one of their brand.
Another cigarette manufacturer uses the RNZAF to sell its products. This advert comes from a 1943 issue of the
Waikato Times, where it appeared often, along with two variations - one featuring two NZ Army soldiers and the other,
two sailors of the Royal New Zealand Navy
Not the best scan I'm afraid as it is taken from microfilm, but Greys used 'Rhymes From The Air Force Nursery' to sell its cigarette tobacco
Anyone remember when tobacco came in tins?
Young boys learned about planes from these Airman adverts - the power of advertising!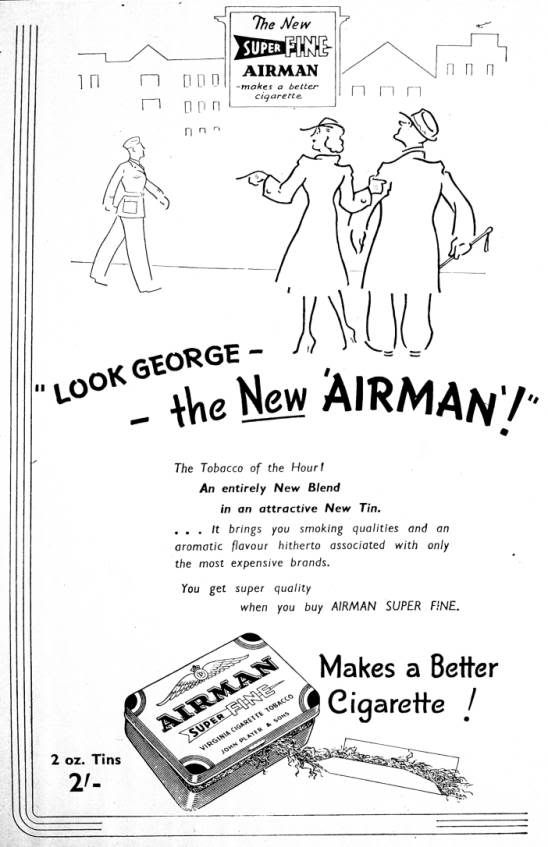 The New Airman, from the New Zealand Observer magazine, dated 28th of February 1940
An interesting advert showing various hats worn by Kiwis at war, including of course a pilot's leather helmet
of the RNZAF. This advert appeared in the New Zealand Observer magazine on the 2nd of July 1941

RNZAF aircrew members share a Twelves brand cigarette

Others

A WAAF poses for her photo at the Crown Studios. This advert appeared often in Contact magazine
A company that is very proud of its support of the RNZAF, a regular appearing advert from Contact magazine.
Here is one of Scott's products:

Scott's Emulsions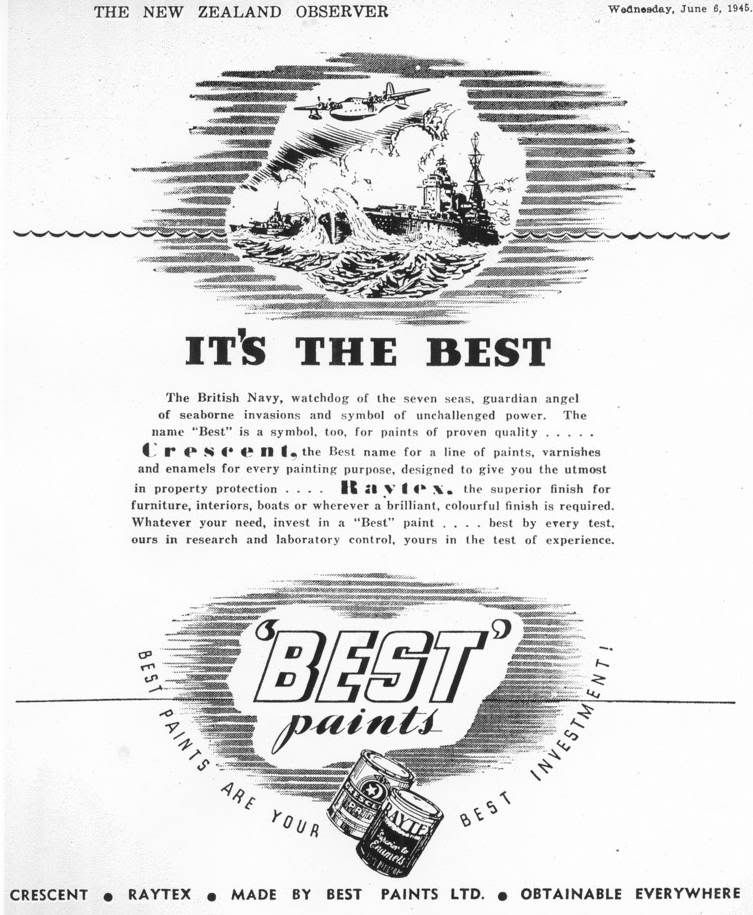 Best Paints feature a Short Sunderland in their advert from a 1945 issue of New Zealand Observer
Not exactly a product as such, but this was a billing from the New Zealand Herald in the issue dated the 21st of August 1941. The film no doubt inspired many young men to join the RNZAF, and perhaps many others already in the service went to see it.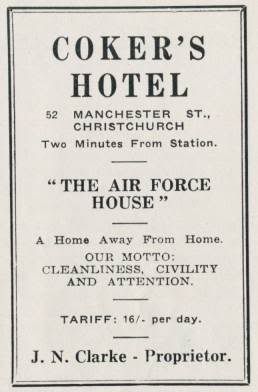 An advert for a hotel in Christchurch which also still exists, but today rather than
"The Air Force House" it is a backpackers (see below)
No doubt many a wartime Airman and WAAF will remember this building, Cokers - formerly dubbed "The Air Force House". Photo taken February 2004 by Dave Homewood