Podcast: Play in new window | Download
Subscribe: Apple Podcasts | RSS
Guests: Tim Martin and Rickey Rau
Hosts: Dave Homewood and James Kightly
Recorded: 19th of November 2015
Duration: 31 minutes  16 seconds
In this Wings Over Australia episode of the WONZ Show Dave Homewood and James Kightly chat with pilots Tim Martin and Rickey Rau, the pilots who fly Coulson Aviation's amazing civil Lockheed L-100-30 Hercules 'Thor', N405LC. This Hercules is fitted with a state of the art fire retardant dropping system for attacking and extinguishing forest, bush and grass fires.
'Thor' and other North American-based Coulson Group aircraft, including another C-130, N130FF and actually named 'Hercules', have recently become familiar sights in Australian skies during the summer seasons as they are regularly contracted to spend the hot, dry months in Australia to fight the devastating bush fires as some of the biggest 'Large Air Tanker' (LAT) fire fighting aircraft down under.
Dave and James were invited aboard by Tim and Rickey at Albury Airport in New South Wales and they agreed to an impromptu cockpit interview for the WOA / WONZ Show, which turned out to be really fascinating indeed. If you've ever wondered what it's like to fly 'LAT aerial attack' on a bush- or wildfire in North America or Australia, here's an insight. We find out what some of the challenges are flying in hot, flat Australia against the more mountainous territory 'up over', among many other fascinating aspects of a very different flying job.
(By the way, it was 40° Celsius outside so without the aircraft's air conditioning running, then it had to be close to 50° Celsius in that cockpit!)
Quick Links
•  Coulson Aviation C-130 Firefighting Facebook Page

'Thor's pilots, Rickey Rau on the left, and Tim Martin [Photo: Dave Homewood]
With a Fireboss on floats behind, the size of the tanker 'Thor' is evident. [J Kightly]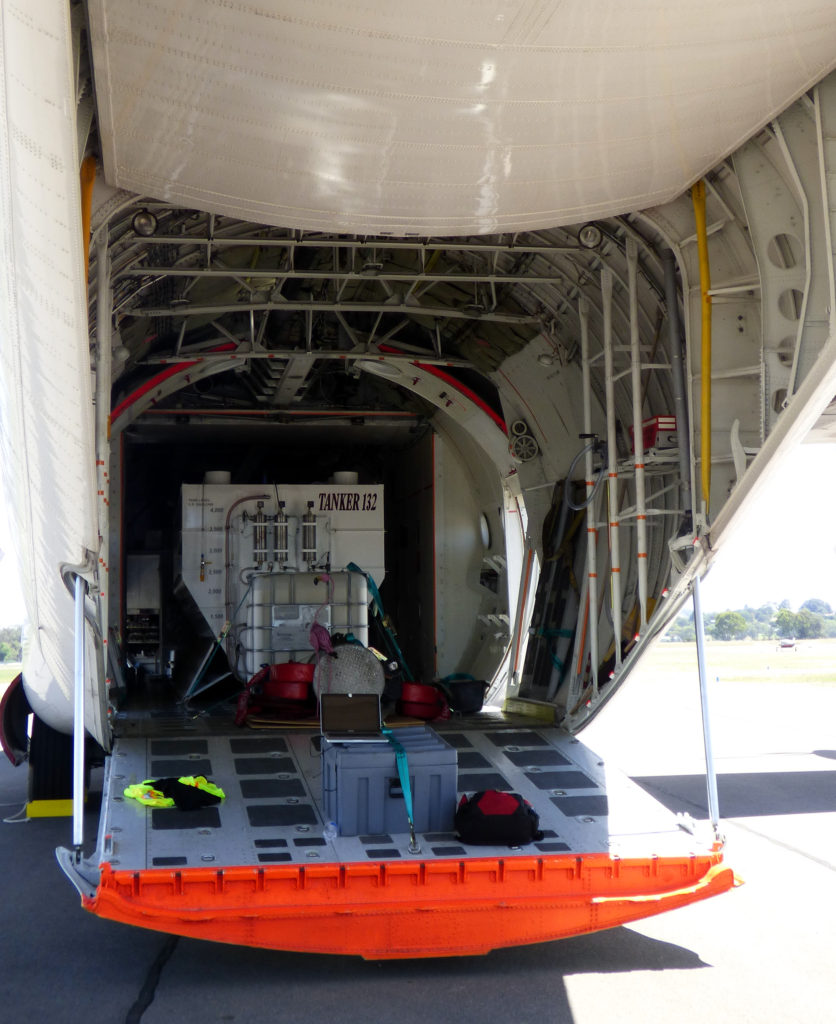 The state of the art tank system [Photo: Dave Homewood]
The tank system in 'Thor'. [J Kightly]
The cockpit of Thor, which was also our "studio" for this interview [Photo: Dave Homewood]
The cockpit of the Hercules 'Thor' is a three crew set up, two pilots and a flight engineer in
the centre. [J Kightly]
Tanker crew Rickey (left) Tim  and interviewer Dave Homewood on the right. [J. Kightly]
'Thor's badge [Photo: Dave Homewood]
High up off the baking tarmac, with the sun beating down through the windows, the very warm cockpit where this episode was recorded was like a glasshouse! [Photo: Dave Homewood]
'Thor' looking magnificent in the sunshine [Photo: Dave Homewood]
Hercules 'Thor' on the day of the interview. [J Kightly]
And here are some photos of the other Coulson Hercules in action:
Coulson's second Hercules 132 'Thor' undertaking a demo drop in NSW on 5 September
2015. [Wayne Rigg]
The tank pump set up, part of the ground system, seen with Coulson's other Hercules,
C-130Q N130FF at Avalon in 2014. [J Kightly]
Demonstrating the tank fill system on N130FF. [J Kightly]