Podcast: Play in new window | Download
Subscribe: Apple Podcasts | Android | RSS
Guest: Squadron Leader Sean Perrett
Host: Dave Homewood
Recorded: 24th of August 2017
Released: 6th of October 2017
Duration: 37 minutes 54 seconds
In this episode Dave sits down with Squadron Leader Sean Perrett during a visit to the Central Flying School of the Royal New Zealand Air Force, at RNZAF Base Ohakea. Sean is an instructor with CFS, and a member of the RNZAF Black Falcons aerobatic display team. He formerly served in the Red Checkers team in the Airtrainers, and another part of his current role is performing flying displays and flypasts in the RNZAF Historic Flight's North American Aviation Harvard NZ1015.
He is also an ex-Royal Air Force Hawker Harrier pilot, and BAe Hawk instructor, and he flew for three seasons as a member of the RAF Red Arrows aerobatic display team.
Sean is also well known on the New Zealand airshow circuit for his wonderful performances in Brendon Deere's Supermarine Spitfire Mk. IX PV270 and Grumman Avenger ZK-TBE, John Luff's de Havilland Venom ZK-VNM, and Bill Reid's Avro Anson Mk. I.
Quick Links:
•  The Royal New Zealand Air Force
•  Central Flying School Of The Royal New Zealand Air Force 
•  The Black Falcons on Facebook
•  The Royal Air Force Red Arrows
•  Brendon Deere's Biggin Hill Hangar Website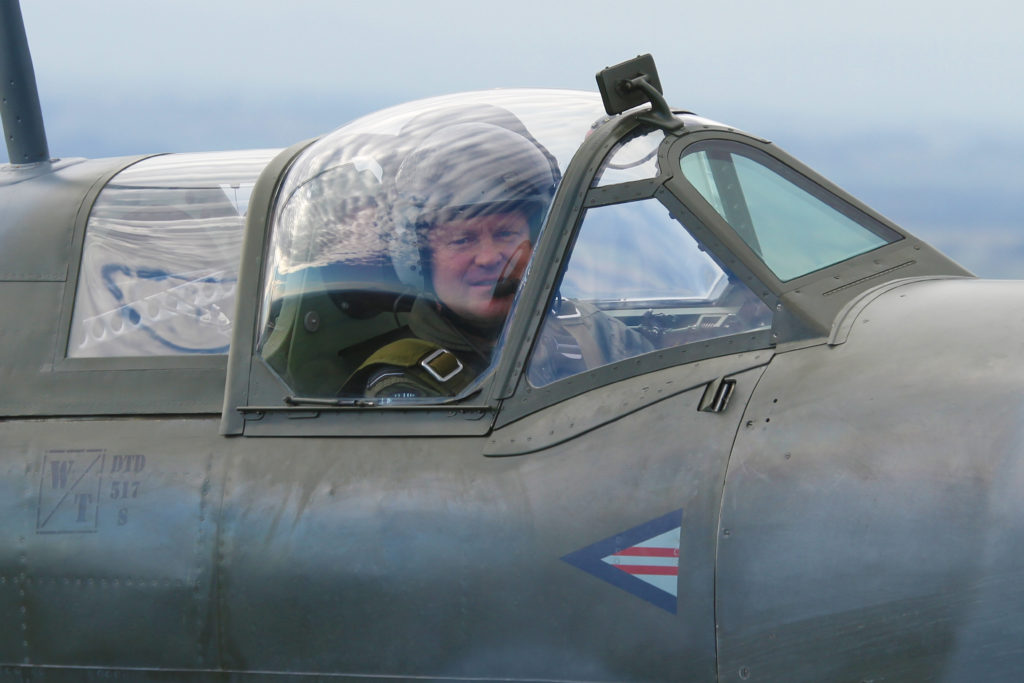 Above: Sean Perrett in the Spitfire, a nice close up by Gavin Conroy of Classic Aircraft Photography

Above: S/Ldr Sean Perrett in the CFS hangar with one of the RNZAF's Beech Texan II's
(Dave Homewood Photo)