Podcast: Play in new window | Download
Subscribe: Apple Podcasts | Android | RSS
Guest: Jamie Croker
Hosts: Dave Homewood and James Kightly
Recorded: 23rd of November 2015
Duration: 1 hour 57  seconds
Another stop that Dave Homewood and James Kightly made on the epic Wings Over Australia tour last year was to the Australian War Memorial's Treloar Technology Centre in Mitchell, Canberra, ACT. There they met the facility's Large Technology Conservator Jamie Croker and his colleague Kim Wood, who showed them around the huge state of the art storage and restoration facility for the Australian War Memorial's collection, where aeroplanes, tanks, artillery, vehicles and other historic items are held in reserve by the AWM.
James and Dave were then invited inside the AWM's WWII Lockheed Hudson Mk. IV bomber (A16-105) which was up on jacks in the restoration workshop, and here they interviewed Jamie about the work that he and his co-workers had been doing to restore this magnificent aeroplane back to pristine condition.
This Hudson had been taken on charge with the Royal Australian Air Force on the 5th of December 1941, and served with No. 1 Operation Training Unit at Bairnsdale, Victoria, followed by a move on the 10th of December 1942 to Ward's Airstrip, Port Moresby, in Papua New Guinea. There it flew transport missions to Soputa and Dobodura. On the 23rd of January 1943 the aircraft returned to No. 1 OTU, remaining there until itwas declared as surplus in September 1947 and sold by tender to European Air Transport for AU£200. The Hudson had a long career in civil aviation with Curtis Madsen Aircrafts [Sic] Pty Ltd, East West Airlines Ltd, Overland Air Services, South Coast Airways Pty Ltd, Herald Flying Services and Adastra Aerial Surveys Pty Ltd.
It was then purchased by Malcolm Long who displayed it at Chewing Gum Field, and later at Air World, Wangarrata, Victoria, partly restored to military configuration, but without the Boulton Paul turret or fittings, bomb bay or ventral gun position, but during the restoration a stock Hudson 'bomber' nose was obtained from New Zealand and grafted onto the airframe to replace the photo survey nose fitted at the time. The Australian War Memorial purchased the Hudson on the 15th of January 2001.
The Hudson was selected for conservation and return to full military configuration as it would have been in W.W.II. This was a major project, requiring the recreation of the W.W.II interior and fittings, including bulkheads and support for the Boulton Paul turret, itself a rebuild from many parts collected over the years, and the rebuilding of the unusual ventral gun position and bomb bay, among many other details discussed in the podcast.
Quick Links:
•  The Australian War Memorial's Website
•  The Australian War Memorial's Facebook Page
•  History of A16-105 sourced from John Parker's Warbirds Online Site
•  AWM Blogposts by Jamie Croker on the early stages of the rebuild
Photos from James Kightly:

The Hudson as VH-SMO with John Fairfax & Son, the newspaper group. [James Kightly Collection]

As VH-AGP with Adastra, with the modified, opening nose section. [James Kightly Collection]

After the restoration by Malcolm Long and on display at the now defunct Airworld collection at Wangaratta, Victoria. [James Kightly]

Seen just before the start of restoration when in store at the Treloar Centre with the Memorial's DAP Beaufort and V-2 missile behind. [James Kightly] 

The Hudson's turret  [James Kightly]


Dave recording the interview with Jamie (left) [James Kightly]


The wireless telegraphy transmitter and receiver sets [James Kightly]


Kim Wood on the ladder, Dave and Jamie  [James Kightly]


The original factory applied decals revealed behind the later soundproofing. [James Kightly]


The Wireless Operator's position in the left foreground, the pilot's cockpit beyond and the 'tunnel' to the  navigator's nose position right [James Kightly]


Inside the storage area [James Kightly]


Some of the many other parts of the Hudson, the tail and engine nacelle parts. [James Kightly]
Photos from Dave Homewood:

The entrance to the Treloar Technology Centre in Mitchell, Canberra [Dave Homewood]


Above and below, the ex-RAAF DHC Caribou [Dave Homewood]


The Beaufort, right, and the C-47 Dakota with many other bits and pieces between, including the Meteor's rear end [Dave Homewood]


Above and below, the DAP Beaufort [Dave Homewood]


The Beaufort's top turret [Dave Homewood]

Above and below, the Canberra jet bomber [Dave Homewood]


An engine and the Hudson turret [Dave Homewood]


Above and below, a North American Rockwell OV10 Bronco, a type flown by both RAAF and RNZAF pilots in Vietnam while attached to USAF units [Dave Homewood]


A de Havilland DH82 Tiger Moth [Dave Homewood]


The Lockheed Hudson's tail [Dave Homewood]


The Douglas C-47 Dakota  [Dave Homewood]


The Bell UH-1 Iroquois, the Pilatus Porter and on top of the shelf, the Nakajima Hayabusa "Oscar" wings and centre section [Dave Homewood]


The Porter and the Oscar  [Dave Homewood]


Japanese suicide launch, see below  [Dave Homewood]


A nice wood carving [Dave Homewood]


Above and below, the WWI Mk. IV Female Tank [Dave Homewood]


The side sponson, showing the 'Female' machine gun mounts, removed from the Mk. IV Tank [Dave Homewood]


An example of Australia's home-developed W.W.II defence, the Sentinel tank under the Caribou's tail [Dave Homewood]


Above and below, artillery pieces [Dave Homewood]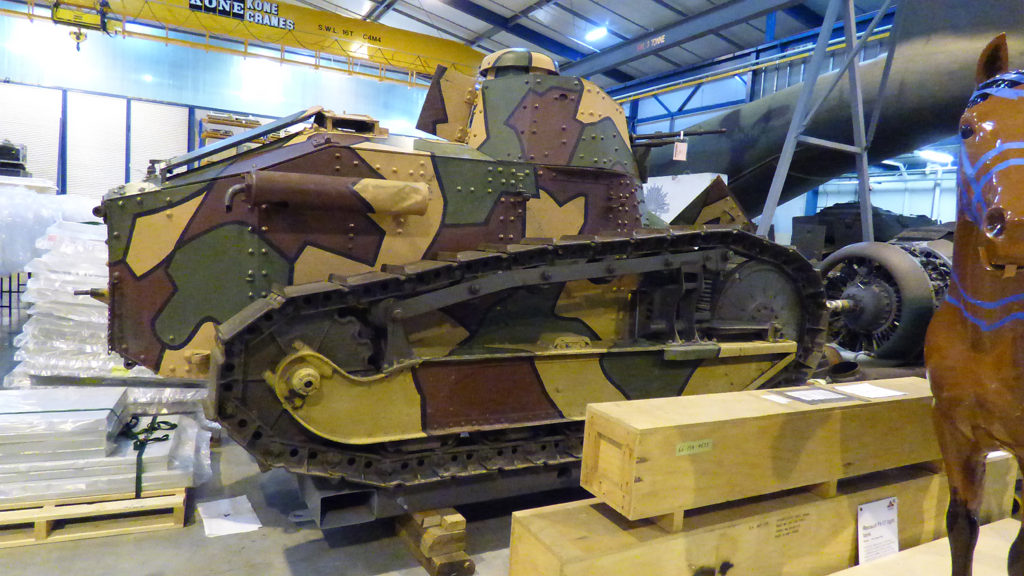 A French W.W.I Renault FT tank [Dave Homewood]

The Hudson

Jamie in the Hudson


Original trailing aerial unit. [Dave Homewood]


The Australian version of the beam gun positions, with the 'cycle clip' flare brackets below, left, discussed in the programme. [Dave Homewood]


The navigator's roof hatch, also discussed, in the stowed position clipped to the fuselage side. [Dave Homewood]