Podcast: Play in new window | Download
Subscribe: Apple Podcasts | RSS
Guest: Jack Marshall DFC (pff)
Hosts: Dave Homewood
Recorded: 27th of October 2016
Released:  17th of February 2017
Duration:  40 minutes 8 seconds
Jack Marshall was born in London in 1920, and moved to Napier, New Zealand in 1937, at the age of 17. He worked as a steward in a Gentleman's Club, but when the war began he immediately volunteered for service in the Royal New Zealand Air Force, and entered RNZAF Station Ohakea as early as the 18th of December 1939. He was to train to become an Air Gunner and after very basic training in New Zealand, he boarded the RMS Akaroa, headed for England for service attached to the Royal Air Force. His first posting in Britain was to Uxbridge for square bashing, and then he proceeded to No. 15 Operational Training Unit at Bassingbourne.
Having completed his training as a Rear Gunner, on the 1st of August 1940, whilst the Battle of Britain was at its height, Jack joined No. 115 Squadron at RAF Marham. When returning from one trip to Berlin, Jack's aircraft was damaged and his skipper was forced to ditch into the North Sea, 40 miles off Great Yarmouth. The second-pilot sadly drowned in the ditching, but the rest of the crew spent 16 hours in a liferaft before being rescued by a Naval trawler.
The crew returned to operations following a break, and then Jack had a period as a gunnery instructor at No. 11 OTU, RAF Bassingbourn. During this time he flew on two 1000 bomber raids. He remained instructing for nearly two years, before undergoing a course at No. 1657 Heavy Conversion Unit where he gained a new crew and they began flying Short Stirlings.
Following the course the crew, which was captained by none other than famous RNZAF pilot Fraser Barron, were posted to operations on Stirlings with No. 7 (Pathfinder Force) Squadron, based at RAF Oakington near Cambridge.
Jack completed 46 operations over enemy territory and he was awarded the Distinguished Flying Cross. He is a member of the Goldfish Club due to the ditching in November 1940.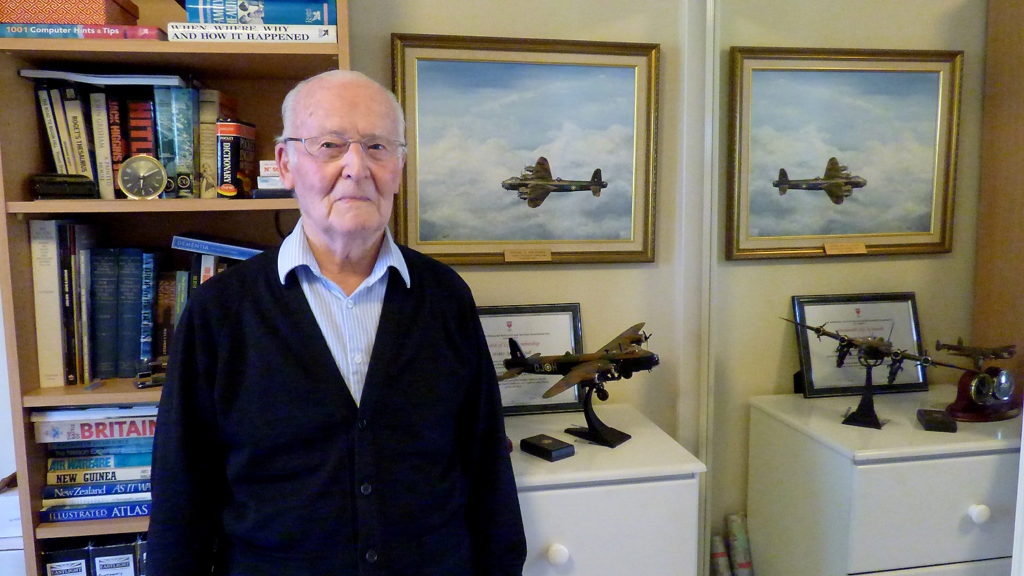 Jack Mashall DFC (pff) in his study

Jack's medals, Air Gunner's brevet, Pathfinders Force badge,and his Goldfish Club badge , mounted with his wartime photo, and he is reflected in the glass


A painting of Jack's crew's Stirling aircraft, MG-G for George, from when he was on No. 7 Squadron PFF

A closer detail of the above painting
Below are photos Jack has pasted around the walls of his study, showing Stirlings from his squadron and his crew
The music at the end is The Pathfinders March